Barcelona: Lionel Messi hits poorest streak for two years
Since February 2018, the Argentine has not gone three LaLiga games without scoring...but then he has provided the last five assists for his side.
Lionel Messi had not gone three league games without scoring since February 2018. That changed on Sunday night when Barcelona's talisman failed to get on the scoresheet at Villamarín, which followed on the back of scoreless games against Valencia and Levante. His worst run in two years, however, is not for the lack of trying as the Argentine has taken 22 shots across those games, and he has certainly still managed to contribute in other ways.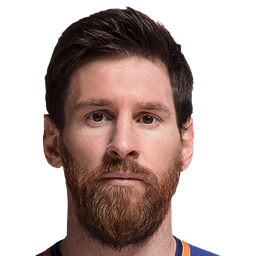 Messi always contributing
In Valencia, Jaume Doménech was outstanding as the last line of defence. Against Levante he lacked accuracy and in Seville he ran into Joel. Over 20 shots without a goal would normally be seen as worrying news for a forward but with Messi the feeling is that there is little to be concerned about.
For the frustration that may be felt by some, it is Messi himself who is most disappointed, even angry, about the situation, especially for the opportunity he wasted against Athletic on Thursday as Barça said goodbye to the Copa del Rey. The positives for his team, of course, are that despite not scoring he still aided others to do so. Against Betis he laid on three assists, and there was another two (both for Ansu fati) in the Levante clash. The hat-trick of assists has only been achieved twice before by the Argentine in LaLiga: against Rayo in 2011-12 and Getafe in 2015-16. Not a bad substitute for scoring himself.
Whether or not the lack of goals continues is not worrying anyone inside the club.
"He is used to always scoring," said Guillermo Amor, the club's director of Institutional Relations. "Despite not scoring, he is playing really well. He had a great game and is heavily involved.
"If he doesn't score, he assists. He is really valuable to us. He had a few chances and always has chances. You'll have to ask him if he's angry but we try to sort our matters internally."
Even more attention than normal has been focused on Messi's reaction on the pitch following a week in which tensions rose high on the back of Eric Abidal's Sport interview. The player though has apparently closed down that particular 'crisis' internally - at least until the summer - and has played with commitment and effort in Bilbao and the Villamarín. That Barça cannot win titles unless Messi scores has been questioned. And their number 10 will try to end his unusual streak this Saturday against Getafe.