"Reinier has eveything to mark an era" - Brazil Olympic coach
Brazil's Olympic team coach, André Jardine, has spoken to AS about Real Madrid's talented new signing, Reinier, giving his insight into the teenager's special qualities.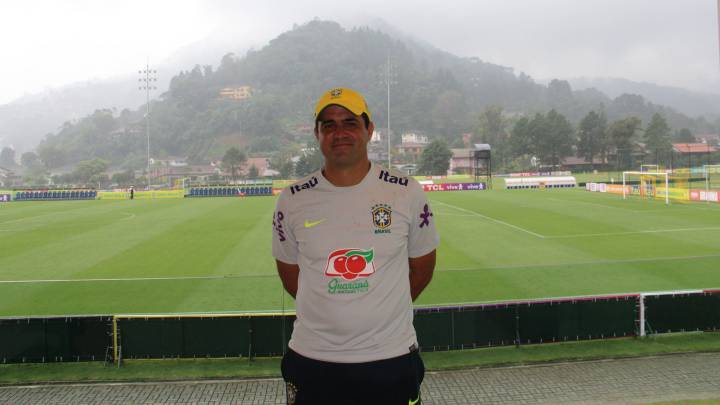 Brazil's olympic tean coach, André Jardine, called up 18-year-old Reinier for the South American Olympic football qualifying tournament, where La Canarinha's U23 side booked their place in Tokyo this summmer. Reinier's inclusion came as a suprise, being the youngest player to be called up to the squad. But the bet has paid off, as Jardine expalined in a discussion with AS about Real Madrid's promising singing.
Did you expect Reinier's adaption to happen so fast?
He impressed me a lot in the first week of training, because of his behaviour, his talent and how he managed to display all of his qualities. He was the youngest player but that wasn't noticeable, he managed to make a contribution.
While Madrid was closing his signing, did he seem calm, nervous, happy?
Very calm and very happy because at the same time he managed to reach the national team and experience a very important personal moment. Going to a team of Madrid's size, he is living a dream. I hope his great moments in Spain will be the same as we expect them to be in Brazil.
How would you describe him?
I got to know him little by little. He has a lot of talent and at the same time a lot of ability to work in a team. His qualities are beyond the norm. He will do very well.
What have you worked on with him?
We have focused on him finding more and more space and feeling more important. I have spoken a lot with him. He told me that he likes that role in the middle on the left, approaching the '9', working hard and contributing to the construction of plays, while also the possibility of playing as a second striker, as he has done in Flamengo.
Jardine: "Renier is a classic '10'"
Where does he play best for you?
He's a classic '10'. He must be close to go goal because of that great potential he has in the end play. He joins the attack, makes goals and can give the last pass.
How has his attitude been?
He's a good lad, easy-going and he gets on with everyone. He got up to speed with the group quite quickly. He has the ability to adapt.
What is your evaluation of his performance in the pre-Olympic tournament?
He was important. He knew how to wait patiently for his opportunities and was very important in the decisive match, fulfilling a difficult defensive tactical role while also offering creativity and personality in attack.
What player would you compare him to?
It is difficult to find the right comparison, his characteristics are very special. He has everything to mark an era and be a decisive player.
When did you see him play for the first time?
In a semi-final of the U-17 Brazilian cup. I was working in a sporting capacity for the Sao Paolo first team and our youth team played against Flamengo. They won and Reinier stood out a lot. He provided a goal and an assist, and he showed the talent he had. I remember his performance very clearly; I was very impressed.