Real Madrid-Barcelona: ticket prices for El Clásico on 1 March
Tickets for Real Madrid's meeting with Barcelona on Sunday 1 March go on sale next week. A 20% discount is availabble for madrid club members.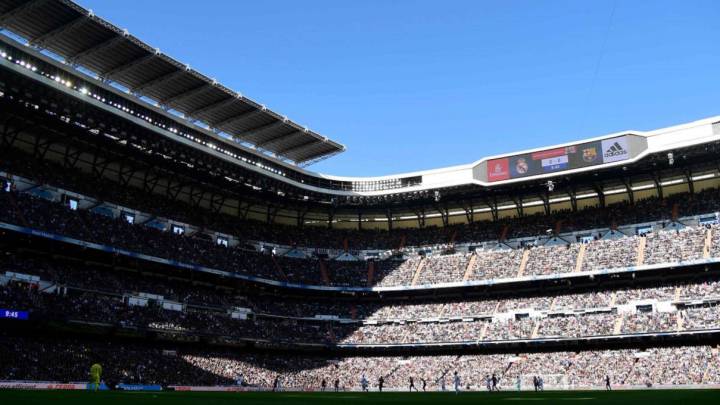 Ticket prices for the Week 26 meeting between Real Madrid and Barcelona (Sunday 1 March at (21:00 hours CET) have now been confirmed. Tickets, range from 96 to 360 euros (excluding VIP packages) and go on general sale on Thursday 20 Friday.
Real Madrid season ticket holders are entitled to a 20% discount while those in possession of a Madridista membership card (Carnet Madridista) can reserve their tickets from 22 February from 10:00 hours CET and the general public from 24 February at the same time. The cheapest available tickets for club members who are not season ticket holders is 96 euros, in the fourth tiers of the north stand and south stands - the same seats are priced at 120 euros for the general public. The most expensive tickets are priced at 328 and 410 euros for club members and the general public respectively, in the premium seating area of the Tribuna. The VIP suites meanwhile are priced at 1,600 euros. For next week's Champions League tie against Manchester City (26 February), tickets range from 42 to 270 euros with VIP suite tickets at 650 euros.
For travelling Barcelona fans, Madrid note: "In line with the current legislation (RD 203/2010), the sale of away fans' tickets will be carried out exclusively by the visiting Club/SAD in an area entirely separate from home fans. Real Madrid reserves the right to deny stadium access to away fans who have bought tickets by any other means and who are not in the correct area.".
With the two teams neck and neck in the table - an unusual situation compared to recent seasons, this season's Clásico looks set to be more attractive than ever. Just three points separate Madrid and Barça in LaLiga and like in the recent derby against Atlético, attended by a 77,223 crowd, the game is expected to sell out.