BARCELONA
Cucurella: 'Barcelona don't have the same patience in la Masia'
The Getafe player is on loan from Barcelona but he says that the club don't have as much patience with the academy as they once had and were famous for.
Marc Cucurella is on loan at Getafe but nothing will stop him from playing at the Camp Nou on Saturday. Getafe want him to stay at the club as his assimilation into the team has been seemless and he is a permanent fixture in Bordalas' plans. The option to buy him is €6 million and they want to exercise that option.
"We are a strong team," he says. "We come into the game with some good results behind us and we are going well. We will go there to get a positive result although we know the difficulties that it will entail."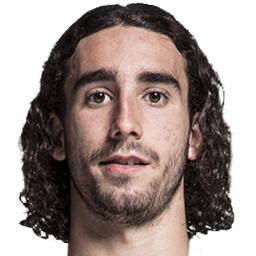 Cucurella spoke about the change of philosophy at Barcelona and their lack of trust in La Masia. "I think that at Barcelona, it's a huge club, and at the end it's important to win. They don't have the patience they once had. As an academy player, they don't the opportunities that players deserve. It's unfortunate because I hope they would have more trust in the academy. In football, it's important to win. Winning has more weight than having patience."
The former Barça player says Getafe's limits know no bounds. "Our philosophy is to always go out to win wherever we are playing. Obviously, Barcelona is one of the best teams in the world and they've lost at home very few times, but we will go out and try to get three points," he said. "Messi is the best player in the world, that's fairly obvious. He can win any game. He makes the difference."
One thing that Getafe can't escape is their next few games despite Bordalas saying 'game by game' is the only way they can think. They play Barcelona, Ajax and Sevilla in their next three games. "The calender has given us these games," he said. "We have very difficult games now but the team is prepared to take them on because we are in some good form. We are focused on the Camp Nou and the rest will come after that."