Messi hits worst LaLiga barren patch in over six years
Since the 2013-14 season, when he suffered physical problems, Leo Messi has never gone more than four games without scoring in LaLiga.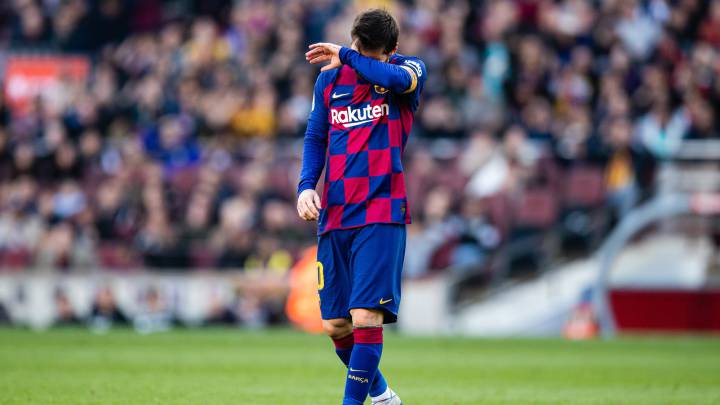 There's no denying it, the goals have dried up for Leo Messi. For the first time in over six years, the Argentinean has gone four games without finding the net in LaLiga. Whether it's down to anxiety or not, Messi's barren run started at Mestalla against Valencia in Week 21, then continued in subsequent games against Levante, Betis and yesterday's meeting with Getafe. Messi was unable to find a way past Jaume Domènech, Aitor, Joel and David Soria - all of whom pulled out exceptional saves to deny him. Messi has a total of around 30 attempts on goal in the last few games although his success rate from free-kicks has dropped. On Saturday, he tried to chip the keeper but hit the ball straight into Soria's hands - normally, Messi never usually misses those kind of one-on-one chances. He also had a direct free-kick from about 30 yards out which he struck well but the ball flew inches wide. He hardly appeared in the game in the second half, which only prompted more talk about the supposed muscular fatigue to his left leg which he has been carrying - a worry with the upcoming games against Napoli and El Clásico at the Bernabéu.
It's not a situation Messi hasn't been in before. Six seasons ago, he went 13 games in a row without scoring, although he did actually miss five of them with a muscle tear. So the longest Messi has gone without scoring is eight consecutive games. He is still the one who commands Barça's game and it was his wonderful pass that put Griezmann clean through for the opener against Getafe. In Barça's three most recent LaLiga games (Levante, Betis and Getafe), Messi has provided six assists.
Messi, LaLiga's top scorer on 14 goals
It's clear he would rather be scoring goals than setting them up. Messi also failed to score in the Copa del Rey quarter final against Athletic, Unai Simón denying him several times during the match. And there's another curious fact - for Messi, who holds the all-time record for the most goals in one edition of LaLiga (50), it's unusual for him to be on just 14 goals by Week 24. He remains LaLiga's top scorer this season, but with the lowest numbers since the 2001-02 season, when Patrick Kluivert, Catanha and Raúl were all level on 11. Real Madrid's Karim Benzema is just behind him with 13 goals and could pull level or overtake him tonight if he is on target against Celta at the Bernabéu.
Messi training his sights on Napoli and Real Madrid
Messi looked a little frustrated on the final whistle against Getafe but he knows the goals will return for him sooner or later. For many, the trip to the Bernabéu will give him extra motivation… Before that, Barça entertain Eibar and then there is Barcelona's first ever trip to the San Paolo, Maradona's old stomping ground to look forward to.