Atlético Madrid vs Liverpool: Champions League preview, team news
All the latest news ahead of the Last 16 first leg clash at the Wanda Metropolitano as Jürgen Klopp's European Champions come up against Diego Simeone's men.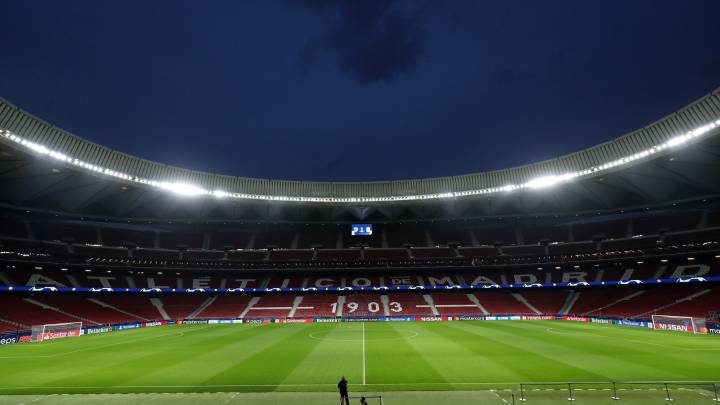 Late on Monday afternoon, Liverpool landed in the city that will live long in the club's supporters' minds. In June 2019, The Reds were proclaimed champions of Europe within the Metropolitano stadium and the Spanish capital was painted red. The same venue awaits Jürgen Klopp and his men tonight, but rather than a well-known English foe like Tottenham, they come up against Diego Simeone's Atlético Madrid. Based on form this season, there is only one winner of this two-legged tie, but few would put money against the Rojiblancos causing an upset.
Atlético Madrid vs Liverpool: preview
Klopp has taken an impressive Liverpool of the 2018/19 campaign - one that finished second to Man City in the league with an incredible 97 points - and turned them into an almost invincible outfit. In the Premier League, other than a sloppy draw at Old Trafford, they have won every other game, home and away. That truly is an incredible feat over 26 matches, especially considering that they were without their first choice goalkeeper, Alisson Becker, for six games at the start of the season, and have done without other important players across the campaign to date. The wins kept coming. And for tonight, with injuries having cleared from the likes of Sadio Mané and Fabinho, the starting team almost picks itself.
If Klopp's eleven was clear, Simeone's choice was clearly less so. In the end he's gone for Oblak; Vrsaljko, Savic, Felipe, Lodi; Koke, Thomas, Saúl, Lemar; Correa and Morata, with the returning Diego Costa missing out from the starting line-up. The Brazilian-born striker could though be a menace if he comes on from the bench.
🔴 Liverpool return to the scene of their 2019 #UCL triumph 🏟️ 🏆

Will they win again in Madrid?

— UEFA Champions League (@ChampionsLeague) February 18, 2020
The inclusion of Thomas Lemar is the big surprise in Atleti´s line-up, with the French midfielder not having played for Simeone's side since 22 December against Betis. The fans are yet to be convinced by the French player who cost 70 million euros and has shown little of the promise that brought him to the Metropolitano.
Lemar's inclusion in the side sees Llorente miss out, breaking up the four-man midfield it looked like Simeone was likely to go with.
Vrsaljko plays instead of Arias and Morata starts instead of Vitolo. Lodi, meanwhile, starts on the left, after his decent performance against Valencia.
The two managers have been full of praise for each other and for the respective opponent. Detailed plans will have been worked on to take advantage of each other's perceived weaknesses, although it those of Atleti have been abundantly more obvious of late. The Reds' frontline of Mané, Firmino and Salah will likely test Jan Oblak on more than one occasion, but the Slovenian has a history of defying the odds. With Anfield awaiting the return leg, what Simeone deems a positive result is hard to know. Barcelona's 3-0 lead wasn't enough; but this game will have an altogether different feel to it.

Atlético Madrid vs Liverpool XIs
Atlético Madrid XI: Oblak; Vrsaljko, Savic, Felipe, Lodi; Koke, Thomas, Saúl, Lemar; Correa and Morata.
Atlético Madrid subs: Adán, Giménez, Hermoso, Llorente, Vitolo, Carrasco, Diego Costa
Liverpool XI: Alisson, Alexander-Arnold, Gomez, Van Dijk, Robertson, Wijnaldum, Henderson, Fabinho, Mané, Salah, Firmino
Liverpool subs: Adrian, Milner, Keita, Oxlade-Chamberlain, Minamino, Origi, Matip.
Atlético Madrid vs Liverpool: Injuries and suspensions
The hosts are missing Kieran Trippier (groin) and João Félix (muscle) while Diego Costa (neck) and Hector Herrera (muscle) are both doubts.
Klopp has his pick of players with only Xherdan Shaqiri and Nathaniel Clyne being listed on the treatment table. Mané made his return from injury on Saturday, scoring the only goal of the game after coming off the bench, and will almost certainly start tonight.
Atlético Madrid vs Liverpool, what the managers said
Diego Simeon (Atlético Madrid): "I don't see any pessimism. I see optimism, emotion. The stadium is going to go crazy, the players cannot wait for the game and all I can see is what I like most of all, hope and optimism."
Jürgen Klopp (Liverpool): "It's not about what's attractive, it's about what works and what is successful [re Atlético]. If there is a time when you have to be at your best then it's against Atlético. They are a real machine and if you are not focused then you won't even have a shot on target. I am German and I admire things like that. But we are also organised and we are here to give it a proper try."
Atlético Madrid vs Liverpool: recent form (last six games)
Atlético Madrid:
Drew - Valencia (A) 2-2 (Liga)
Won - Granada (H) 1-0 (Copa)
Lost - Real Madrid (A) 1-0 (Liga)
Drew - Leganés (H) 0-0 (Liga)
Lost - Cultural (A) 2-1 (Liga)
Lost - Éibar (A) 2-0 (Liga)
Liverpool:
Won - Norwich City (A) 0-1 (EPL)
Won - Southampton (H) 4-0 (EPL)
Won - West Ham (A) 0-2 (EPL)
Won - Wolves (A) 1-2 (EPL)
Won - Man Utd 2-0 (EPL)
Won - Tottenham (A) 0-1 (EPL)