Raheem Sterling talks to AS: "What Zidane's done isn't down to luck, it's a formula"
The Manchester City player spoke to Diario AS to analyse the Champions League last-16 tie. "Real Madrid is a fantastic club".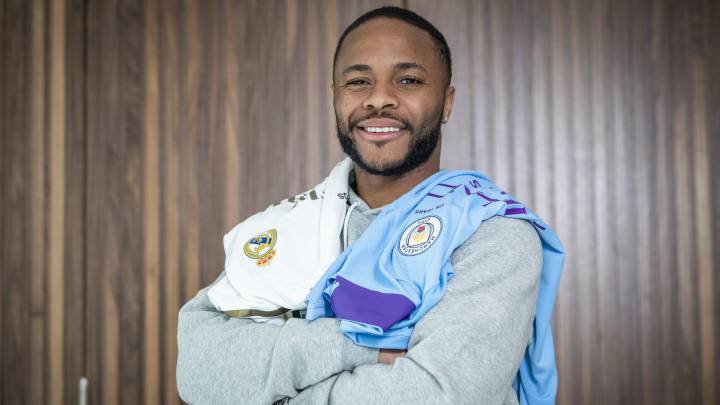 Accompanied by two colleagues from the Colossal Sports Management agency, Raheem Sterling sat down with AS at the Lowry Hotel, the hotel where José Mourinho was based during his time in Manchester. Up until his injury, Raheem was the main contributor in terms of goals (20 scored and 6 assists) for City, who prohibited any questions concerning the UEFA ban. A relaxed Sterling looked ahead to the Champions League tie against Real Madrid during a chat which lasted just over an hour. Here is the first part of the interview...
Where were you when you found out that City had been drawn against Madrid? And your team mates? What was their reaction?
We'd had a team meeting at the training ground and we watched the draw live. It's something that we always do and it's a great laugh. We always do it. We had a good reaction when we knew that they will be our rival. You know it's a big club but it's a challenge that, I've experienced in this competition, if you want to do well I think the best thing you have to do is to play against the best teams straight away and there is no better challenge than Real Madrid.
That Madrid side were not as good as the current team. Have you followed their improvement?
Yeah, I say with all my heart that then or now… It is always going to be a difficult game whether they are in a good or a bad moment. Just because of the atmosphere, the historical stadium that we are going to... It's going to be a difficult game. Especially now that they are doing really well, but at the same time I've got full confidence in our team and if we get it right on the day, I believe we can win.
Zidane has been key in this improvement; some people in Spain believe he brings good luck (La Flor de Zidane). How do you see him?
I think to win the Champions League so many times especially in a row as well is very difficult. I don't think that's luck, it's definitely a formula. Some people have that winning mentality and he wins by any means. So I wouldn't say that it's luck, I'd say it's something he has probably developed over his great career as a player and he´s developing his career as a manager so it continues this winning touch. I don't think when you win it's luck, it's a winning mentality.
City are experts at scoring last-minute goals. Are you aware that Madrid are also known for grabbing late goals?
Yes, we know how difficult it is going to be. It's probably one of the biggest tests of our playing careers. I think that it is a great year for us in terms of the Champions League because the Premier league hasn't gone as planned. This is the opportunity when we can go out there and show what we're made of. Nowadays, there aren't many teams that can stop us. We know how difficult the task is ahead and we are fully focused on it.
If you were a manager, which Madrid player would you like to sign?
Luka Modric. I've played against him a couple of times, especially with Croatia, and I don't know, the way he just floats about… He's very nice on the eye.
Would he be in your starting line-up?
100%. Definitely.
Could you see yourself in the Real Madrid line-up, do you think you'd fit in?
(Laughs) It's one of those things… Right now I'm at City and I'm really happy. But I say Real Madrid are a fantastic club, when you see the white shirt you know exactly what the club stands for, it's massive. But at the same time, I have a contract with City now and I have to respect this. But it's a fantastic club.
Do you have a relationship with any of the Madrid players, apart from Brahim; have you texted them by WhatsApp?
I have no contact really to be honest to you. I have seen them a couple of times on holidays. I think it was Isco, Marcelo... If I see Brahim posting on Instagram I say to him "continue" or "good luck" but not all the time.
What are your thoughts on not winning the Ballon d'Or or PFA Player of the Year award?
Especially in the last year where we have won the domestic quadruple including the league, to not have a player winning PFA Player of the Year kind of speaks for itself really. The award was given to a Liverpool player who had a fantastic season but I look at previous seasons as well when Yaya Touré scored 20 goals from midfield and he didn't win Player of the Year. Also, Sergio Agüero has been at the club for more than seven years and has scored unbelievable goals during this time, yet none of City's players have won it.
I think that certain players are not treated in the same way when they are from different football clubs across the country and across the world over the past few seasons. The first year we won the league, De Bruyne was unbelievable and they gave it to another player. Every year we win a major trophy and it's given to an opposition player. It's that sort of thing that doesn't depend on us, but we keep going.
Is it something you think about a lot?
It's something everyone can see. It is impossible to win the league for four or five times and none of the players were Player of the Year. Every team which wins the league has a player who wins Player of the Year, for sure. So, this year Liverpool win the league and a Liverpool player will win the Player of the Year for sure. We win the league for five times and we were not treated with the same respect.
Madrid wanted to sign you and there are still rumours about it… What do you think about that?
It's something that you see all the time, but I'm a City player and I'm enjoying it at the moment, even if things haven't gone quite planned in the league. We now have a massive opportunity in the Champions League but I keep saying Real Madrid is a fantastic club, there's lovely weather but I keep saying that I am quite happy at City.
You once said: "Everyone's dream growing up is seeing themselves in an away kit somewhere in a sunny country". Would you like to play one day for Real Madrid?
(Laughs) How do I answer that one? Is the camera live or is it just taking pictures? No one knows what the future will hold. I am a player and I am always open to challenges but right now my challenge is at Manchester City. In the future, hopefully, who knows..
You once had a problem with Sergio Ramos, who claims he didn't step on you. Have you spoken to him or apologised?
I think it's one of those ones... it's a football match and we both try to win. He knows that he stepped on my foot that day but it's one of those... we were both trying to win the match for our countries and an incident happened, he didn't think it was his fault, I did and it happens sometimes. There is no love lost... He's a player that I admire for exactly what he's done in the game. He's a true role model and icon. When he speaks he's someone that you listen to. At the end of the game, it was all fine and all sweet.
England have an amazing squad for Euro 2020. Do you think you will be going into the tournament at your best as a player?
It's a good opportunity for England. Generally, looking the players who are playing now: Sancho, Rashford, Kane... especially the attacking line-up. They are players who are playing great football at the minute. But not just this, they're leading players in their teams and coming to an age where they lead by the example, so it's a great moment for England but at the same time we need to do it on a massive stage. The World Cup was good, but I think we've improved from that massively, especially in the attack we have more talent. Now we need to make a name for ourselves and it's a massive dream for me and for my country so it's something that I'm fully prepared for, like no other tournament.
Do you think England are favourites to win the trophy?
I don't want us as favourites. I hope no one chooses us as favourites, I hope everyone writes us off and on the day we just keep going.
How do you see Spain's chances?
During summertime you don't want to be playing against them in pre-season because they don't seem to lose the ball those guys. They always have a good team and as years go by fine players continue to come. They're always a team that are a challenge.