Real Madrid: Zidane on Levante, Ramos, Mourinho, Sterling...
Real Madrid boss Zinedine Zidane spoke to the media ahead of his side's LaLiga week-25 clash with Levante on Saturday (21:00 CET).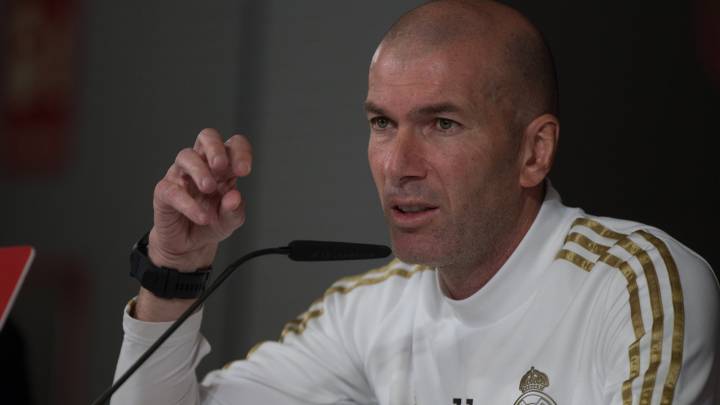 Real Madrid head coach Zinedine Zidane spoke to the media on Friday ahead of Los Blancos' LaLiga clash at Levante (Saturday, 21:00 CET).
Here are 10 key quotes from Zidane's pre-match press conference:
Levante a difficult away assignment:
"They've won 20 out of a possible 29 points at home this season. It's a tough place to go to. We're going to have to be ready to put in a top performance."
Season at stake over next fortnight:
"It's about the work you do day in, day out, right from the start of the season. It's about the here and now. We're only focusing on the next game, and that's against Levante tomorrow."
Sergio Ramos keen to go to 2020 Olympics and on preliminary list of players in contention for Spain's squad:
"If he wants to do that, he's got my backing. Playing for your country is always special, and it's great that he wants to go and represent his country."
Ramos' contract renewal:
"I don't see there being a problem with that. I always want Sergio with me, with us."
Ramos has never been a substitute under you. What makes him different to the rest?
"That's a good question. Sergio is our captain, our leader, our reference point... If he's available, no-one wants him on the bench. He's very important for all the fans, all our players."
Are you following a special plan with Eden Hazard in the wake of his injury lay-off?
"No. He has had two or three weeks of training; he's ready and he wants to play a big part for the team in the final stages of the season."
Rodrygo Goes left out of three of last four squads:
"If you look at it like that, then this isn't a great time for him. But we know that he's an important player for us. When everyone's available, though, you have to make a choice when naming your squad. He has time on his side. He's 18 and has shown that he belongs here."
José Mourinho says he has nothing to prove. Do you?
"Want I want to do, and what I do, is give 100% as a coach. That's all I'm interested in."
Raheem Sterling doesn't rule out joining Madrid in the future - would he be a good fit at the Bernabéu?
"I don't know. I can't talk to you about a player who isn't mine."
See also: Sterling: "What Zidane's done isn't down to luck, it's a formula"
Ferland Mendy is a booking away from suspension in LaLiga, with the Clásico up next. Do you tell your players to be extra careful in such situations?
"At the end of the day, the players are well aware of what their situation is, [but] they have to play, not think about what's to come after that. As a coach, I don't really focus on that too much, either. I just want my players to give 100%."