REAL MADRID
Real Madrid say "Hazard is in perfect condition"
The Belgian returned against Celta and could have played the whole game but the plan, which is going smoothly, is for him to hit top form for City and the Clásico.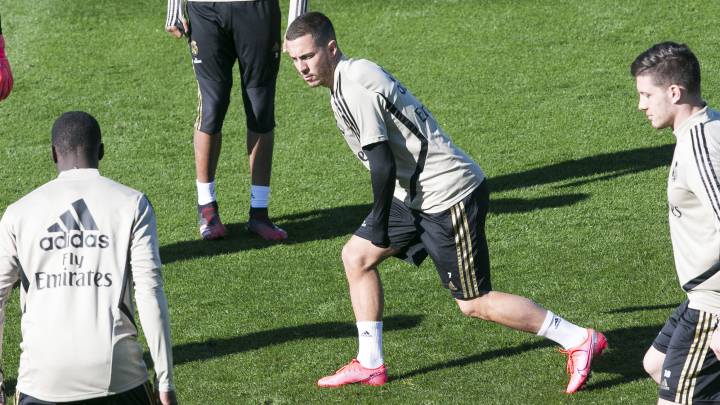 Eden Hazard was taken off in the 73rd minute against Celta Vigo on his return to action last weekend. He was taken off due to precaution after returning having missed the previous 82 days with an ankle injury. "He could have kept playing," they said in Madrid.
The Belgian is in the middle of a process that will see him arrive in top shape for the Manchester City game next Wednesday in the Champions League and then four days later in the Clásico against Barcelona at the Bernabéu.
"Hazard is in perfect condition," is the line coming from Real Madrid technical staff.
The return of Madrid's big summer recruit almost comes as an early spring signing. The original plan was for him to return for the Madrid derby but it arrived just a little too soon. He had less than a week's worth of training under his belt and needed more time.
Madrid's defeat in the Copa meant Hazard was offered even more time before his return. Celta was the date selected for his return and he did well after such a lengthy spell on the sidelines. A more favourable game because his ankle (operated on in 2017 too) is worth its weight in gold.
Hazard, who was criticised for being overweight to start the season, has worked hard to keep him weight down. His own Belgian teammate was the one who 'broke' Hazard with a late challenge. Witsel and Thorgan Hazard even trolled the PSG player asking him not to injure any more Belgian teammates. Much of the work since then in the gym has been to ensure Hazard kept his weight down.
He will start again against Levante to get up to speed and will be ready for the game on Wednesday against City. Real Madrid arrive now into the meaty part of the season. They want one of their top chefs, the Belgian, at the front of the kitchen.