Real Madrid badge spotted on scoreboard at the Camp Nou
The Madrid crest was seen just under the Barcelona VIP box, where president Bartomeu was sitting.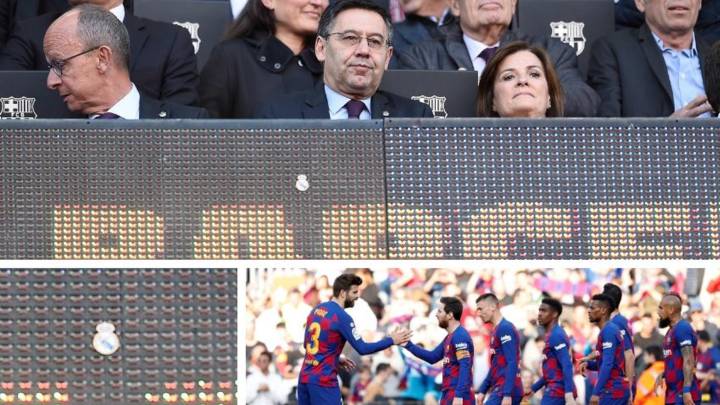 What was the Real Madrid badge doing on a scoreboard at the Camp Nou? Who put it there? How did it not get noticed before the Barcelona v Eibar match?
A lot of questions for both the Barcelona fans and the club's board of directors. The crest in question was stuck to the scoreboard just under the VIP box, directly below Barça president Josep Maria Bartomeu's seats.
Bartomeu had no idea a Real Madrid badge was right under his nose

The images were quickly picked up by the press, although Bartomeu and his fellow VIPS had no idea what was right under their noses. In the absence of any other explanation it looks like somebody was trolling the Barcelona president, at the end of one of his toughest weeks in a long time, with the Camp Nou calling for his resignation before the game over the social media scandal that rocked the club.
Real Madrid host Barcelona in LaLiga this coming Sunday (1 March) at 21:00.