Real Madrid: Sergio Ramos rails at referee after Levante defeat
Real Madrid captain Sergio Ramos was fuming with referee Alejandro Hernández Hernández after Saturday's 1-0 LaLiga loss to Levante.
Assessment of Real Madrid's Levante defeat:
"It's a tough night for us, but we're coming to the crucial point of the season and we have to move on. We come away second in the table and the margins are very fine in LaLiga - any kind of slip-up can cost you the title."
Criticism of referee Alejandro Hernández Hernández:
"I don't like talking about referees. I've always said that, because they're humans and can make mistakes. But sometimes they make you stop and think. The criteria changes depending on the day. I was penalised for my handball in the Spanish Super Cup against Valencia, but it was involuntary. And today there are two involuntary handballs [by Levante players] and they aren't given. But with this referee, I'm not surprised at all. Before, the referees were more respectful. You could talk to them. You can't talk to this one, though."
"I asked him if he had a problem with me personally"
"At the end of game, I asked him if he had a problem with me personally. I can only point to the facts: in the 10th minute, the referee gives you a yellow that will affect the rest of your game, after you've been stamped on and elbowed. There are decisions that have already been made."
Do you think you're being picked on by referees?
"No, I don't think I'm being picked on. I must be doing something wrong; if I'm getting so many cards, I need to look at myself."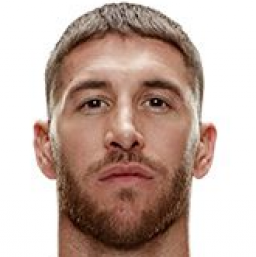 Eden Hazard injury:
"The injury he's got is a tough one, and it's flared up again. He's really annoyed about it. Let's hope he's back as soon as possible. When he's fully fit, he's a top player. Hopefully it's not as serious as the first time."
Madrid's goal-shyness in attack:
"At the end of the day, it's the same as always: you win as a team, and you lose as a team. We have to stick together."
Big week ahead, with games against Manchester City and Barcelona:
"There's no time to feel sorry for ourselves. We have a huge week coming up and we have to show what we're made of, by taking a big step forwards against City and in the Clásico."