REAL MADRID
Hazard has missed more time in a year than he did in seven with Chelsea
Real Madrid signed Hazard in the summer but his first season has been a disapointment with 18 games missed through injury and another 10 or so to come.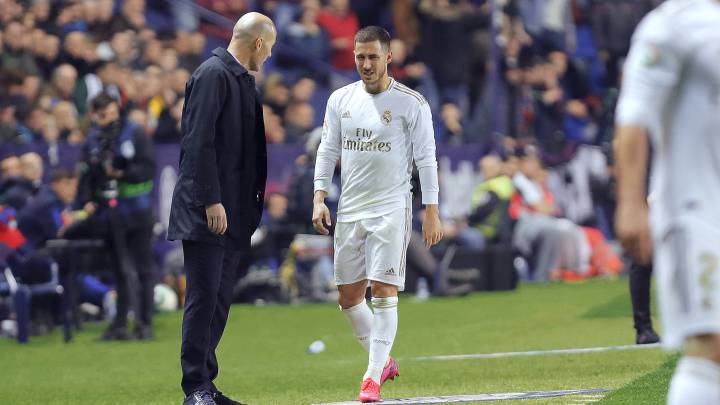 Eden Hazard's poor luck with injuries continues just as he was starting to put his last setback behind him. The Belgian's right ankle kept him out for a couple of months before his return last week against Celta Vigo. The word from Real Madrid was the he was in good shape and moving nicely towards being ready for the Manchester City and Barcelona games. On Saturday night, however, he fractured a bone in his ankle and miss another two months.
The backheel that Hazard tried at Ciutat de Valencia has proven costly and he is set to add to the 18 games he has already missed at Real Madrid in his maiden season in Spain. He will most certainly add two more to the list this week, the two most important of the season to date as they play Manchester City and Barcelona.
In seven seasons, Hazard missed just 20 games through injury. There was no one injury that left him out for more than five games. A hip issue in 2015-16 did force him to miss five and 42 days of action. The last injury alone forced him out of 16 games and he could miss another 11 this time around.
Hazard's season hasn't gotten going
Hazard, who signed with Real Madrid in the summer, arrived out of shape and carrying a lot of extra weight. His preseason never got going and was ended with a hamstring injury. That same injury forced him to miss the opening three games in the league and he has never recovered properly or gotten going in the white jersey.
In October, Hazard missed the Mallorca game for the good news that was the birth of his child. Worse days lay ahead and in October, he suffered the ankle injury that would keep him out for two months. Real Madrid have lost a step in LaLiga and Barcelona have overtaken them again. Manchester City come to the Bernabéu on Wednesday in what could be a defining week for Zidane's side.