Andy Robertson: "I wish I'd never ruffled Messi's hair"
Liverpool's left-back says he didn't know what came over him when he shoved Leo Messi and ruffled his hair: "I cringe whenever I see it; I only have respect for him".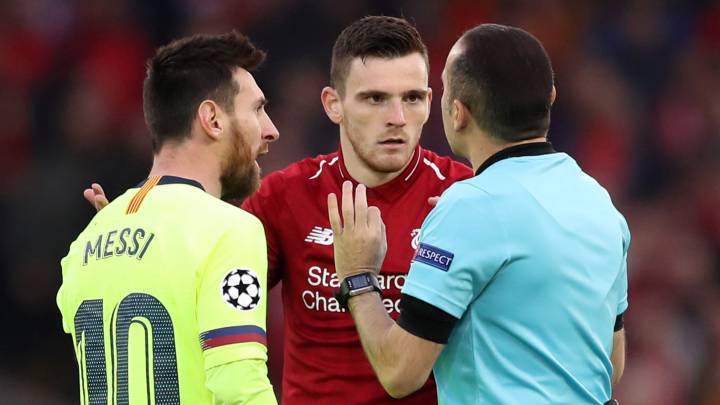 Everything has gone right for Andy Robertson since his move from Hull City to Liverpool but the defender admits having one regret. In last season's Champions League semi-final return leg at Anfield, Robertson and Fabinho were chasing Messi down during the first half of the game and won the ball back close to the Liverpool penalty area. Inertia took Messi down but as Robertson got up to continue play, he shoved the Barcelona player's head and gave his hair a brief ruffle. Messi felt he should have had a free-kick but his protests to match official Cüneyt Çakir came to nothing and Liverpool went on to famously win the match 4-0 and overturn the tie.
"I have nothing but respect for Messi and Barcelona" - Robertson
Robertson however, still cringes when he thinks about that incident with Messi and wishes that if he could turn back the clock, maybe he would have been so cocky with the Argentinean, who he admits is the greatest player the game has ever seen. "When I look back on things I don't really regret anything because I feel as if everything is experience that makes you what you are," he explained in an interview with The Mail on Sunday. "But I do look back on that moment with Messi as one regret. I don't like seeing it. When I saw it afterwards I was gutted. We all had the attitude that day that nothing was standing in our way to get to that final and we created that atmosphere around the stadium; and me and Fabinho were tracking him and there was a tangle of legs and we were on the floor. To do that to the greatest player that has ever played…
Robertson continued, "I have nothing but respect for him and Barcelona, but we went into that game with the attitude that we were 3-0 down, we needed a miracle, we needed something special and if that little thing stopped the best player in the world playing to his highest potential…" the left-back continued.
I shouldn't have done that to Messi, says Robbo
"But I do regret it. That's not me as a person. That's not my personality," Robertson added. "But that night a lot of things happened that you don't really remember. There was no thought process behind it. We were right up for the game. The fans were roaring and you get caught up in it. You're a human being. We were 3-0 down in the semi-final of the Champions League, which we wanted to put right from the season before. It was the loudest changing room I have been in before the game. You could see the focus and the determination in all of us and maybe I went over the line".
On the till and packing bags at Marks and Spencer
Robbo also remembered other times in his working career, making ends meet by working at the Glasgow branch of Marks and Spencer. "I was on the tills - I wasn't tall enough to stack the shelves..." he remembered. "For people to say it was a fairy tale leaving Marks & Spencer behind - how many thousands of people work in these supermarkets? I felt that was a bit disrespectful [towards them]. These are normal lives and people can have a very good life working there. How many of them are in our stands over the weekend and there am I saying, 'I have left this terrible life behind and moved on'. Of course I am better paid now. Would I be happier playing football than at M&S? Yes, of course, but if that was my life I'd be the same person I am today. Money doesn't bring me happiness, but from three or four I wanted to be a footballer. That was always my dream in life".