Real Madrid: "The situation with James is strange" - Carlos Queiroz
Colombia coach Carlos Queiroz told EFE: "James' situation at Real Madrid is worrying; we know that he is in a very difficult situation.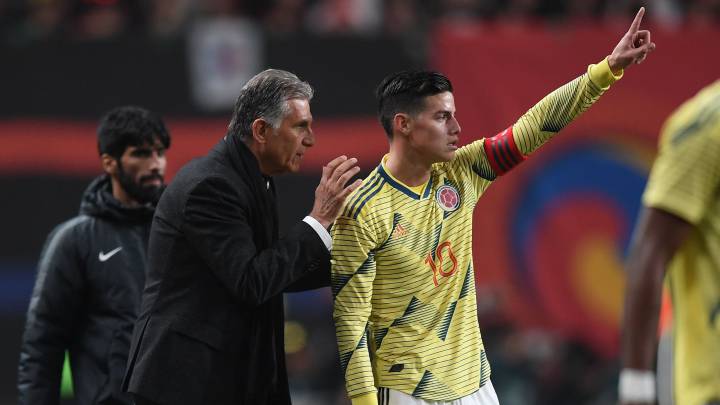 Colombia coach Carlos Queiroz has highlighted James Rodríguez's situation at Real Madrid and how it could affect the player's position with the national team. In an interview with EFE, Queiroz responded to reports in local media which claim that the Real Madrid midfielder has told the coach that, if he is not a first choice starter, he won't play for the national team. Queiroz, who was in Porto for today's Europa League return leg between Porto and Bayern Leverkusen, admitted that James' lack of playing time is worrying - as is the case with two other Colombia internationals Atlético Madrid's Santiago Arias and Atalanta's Muriel.
Queiroz stated that both James and Radamel Falcao (who is just back from injury) are football references in Colombia, although he added that their status doesn't not have a direct influence on his team selection. He did reveal that the Colombian Football Federation (FCF) have sent a fitness trainer over to Madrid to work with both James and Santiago Arias.
How are things getting along with Colombia?
We're prepared and relaxed, in spite of some situations, we would like some players to be playing more and obviously have less injury worries. Next month we have World Cup qualifiers against Venezuela and Chile, but all of the coaching team have been working between Europe, Mexico, Brazil and Argentina. We are very close to the players, and have been working discreetly in Colombia's best interests. We also have a fitness trainer in Madrid doing extra work with James and Arias.
Some newspapers in Colombia have reported that James Rodriguez won't be selected for the national team if he is not guaranteed a place in the starting XI?
All I can say is that we, at the FCF take care to look after all of our players. James' situation is worrying for us - we know that he is in a difficult situation at this moment in time, it's a situation which technically and professionally isn't the best. But then there are other players who are playing even less. James' case is very strange, it's been a strange season for him but all of the coaching staff and I personally are doing what we can to help James, whose situation is a little more complicated. No one is disputed the quality James has - or Arias and Muriel, who are also both in a difficult situation. That's why I am doing everything possible so that the players are in the best possible condition. My obligation is to ensure that all of them are fit to play.
It looks like Radamel Falcao, following his Achilles injury, is fully recovered - he scored against Fenerbahçe.
Falcao, like James, is a reference for football in Colombia and thankfully he has made a full recovery. I attended the Fenerbahçe game and saw him at first hand.
If Falcao and James are playing with their clubs, will they be first choice at Copa América?
I don't like making promises and commitments. You have to take decisions with calm as I have a responsibility to fulfil, that's what the fans expect of me, to win our games.
Are you worried about the coronavirus outbreak in Italy. Several Colombia internationals play in Seria A - Muriel, Zapata, Cuadrado...
It's a serious issue and we are keeping informed of the situation. It's a problem which affects all of us. We are in conversation with those in charge in other countries, but we are confident that our players in Italy will be fine when the time comes to fly out to Colombia.