CHAMPIONS LEAGUE
Jesus speaks to AS about Man City's chances against Madrid
The Manchester City striker was not touted to start the game but did and starred. He spoke exclusively to AS after the game at the Bernabéu.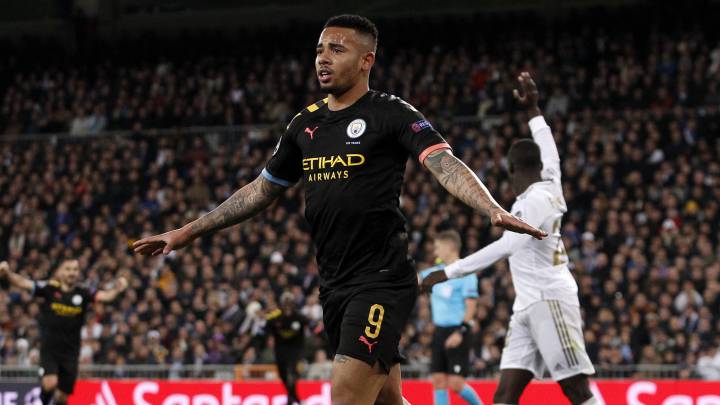 In the build-up to Manchester City's visit to play Real Madrid on Wednesday night, Gabriel Jesus was picked on the bench and not a starter and much less the star of the show. The 22-year-old Brazilian did start though and drove Real Madrid's defence crazy, scoring their first and he also won the free that forced the ref to show Sergio Ramos a red card. The Man City striker spoke to AS after the game to reflect on the win and the work ahead.
9

How would you describe your first visit to the Bernabéu, on one of the same nights that Real Madrid built their history on?
I am very happy. The goal on Wednesday was one of the most important and significant of my career. It was a difficult game, we all know important and how big Real Madrid are. That's why I'm so happy and I will, for sure, always remember this huge night. But know we have to focus on the return leg. Nothing is done yet and the result either, we believe in ourselves: This is Real Madrid. They have a lot of quality and we have to be very focused.
Few had you as a starter. Were you expecting it?
We always said that City have more than 11 starters. All of the players in the City shirt are prepared for this type of situation. They want to fight to start, and we have to have a squad completely prepared. I was ready, and when he told me I was going to start, I knew I was ready to give my all.
Your performance was impressive on Wednesday. How did it feel to score the goal put City on the cusp?
I am very happy. We knew it would be a difficult game but I feel comfortable in the biggest temples of world football. There were some chances before and I knew the goal was close, I was confident. How nice it is to have helped in the first leg. We will think now about the Carabao Cup and then the Champions League.
They said it was a foul for the goal on Ramos. How did you see it?
It was a normal fight, a normal battle for position. I was only looking at the ball, we fought for the space and when it arrived and I scored, I was delighted with such an important goal.
"It was a normal fight, a normal battle for position. I was only looking at the ball, we fought for the space and when it arrived and I scored, I was delighted with such an important goal."
You also provoked the red on the Real Madrid captain. What a night you gave him...
It was another normal situation. I was going towards goal and I felt a nick on my leg. They're things in the game. Sergio Ramos is one of the best defenders in history, I respect him a lot and his career. I did my job and I am happy because we won.
Did anyone from Madrid congratulate you on the game?
The same as normal, we all speak after the game. I have friends at Madrid, players who I know from Brazil like Casemiro and Marcelo who were at the World Cup.
And Guardiola and your teammates?
Like normal. They congratulated us for the great game we played. It was a very mature performance because we suffered with the first goal and we re-focused. It was a great performance from everyone.
What percentage of possibility do City have of beating Madrid now?
I can't say in percentages when you play a team like Madrid with so much history and quality. We had a great first leg with a good result but we have to stay concentrated in the return to give the best of oursevles and to make sure we qualify.
You have been involved in 27 goals in 36 games this season, you have scored or assisted ever 78.77 minutes. Is it the best moment of your career? Do you feel like you are at the level of the best?
I feel really good and with a lot of confidence. I am on a good run giving my very best and things are working out. I am scoring, assisting, helping City. I feel good and I'm looking to grow more and more to be at the best level possible.
You have a contract until 2023 but you are very young. Would you like to play for a club like Madrid one day?
I have a contract with City and I am very happy with the season I am having, playing, scoring goals and helping the team. I am very happy with the year I am having and I don't think about these things.
At Madrid, there are a lot of Brazilian, why do you think that is?
I think it's because of the history of Brazilians in the Real Madrid jersey. There have been many at the club and they have made histor. Ronaldo, Roberto Carlos, Sávio... I think that the history some of them have made helps with that.
Have you asked them how the club and the city is?
No, no, no. We don't talk about that. We talk about our clubs, about the lives we have in the countries we play in but they are normal conversations with friends.
We know little about you personally. How would you describe yourself?
I am a very relaxed guy. I like to stay at him with my friends when I am in Manchester and with my family too. Everyone knows I am very connected with my partner and my brothers.
What remains from the kid who left Palmeiras to go to Europe?
I am still the dreamer I was when I wore the Palmeiras jersey. I want to achieve great things and conquer my objectives. I am still young despite having won important things in my career. I always want more and to fly higher.
You have won important things with Brazil. What would you prefer this summer, the Olympics or the Copa América?
They are two big titles in my career and both have different significance. The Olympics have a significance because Brazil have never won it. And it's something that everyone in our country wants a lot. And the Copa América last year too was very special for our fans to have played in Brazil. Both tournaments are very special. This summer, I'd like both.