Real Madrid-Barcelona: El Clasico facts, stats and figures
Ahead of the biggest game in Spanish football, we take a look at some of the numbers and curiosities surrounding Real Madrid vs Barcelona.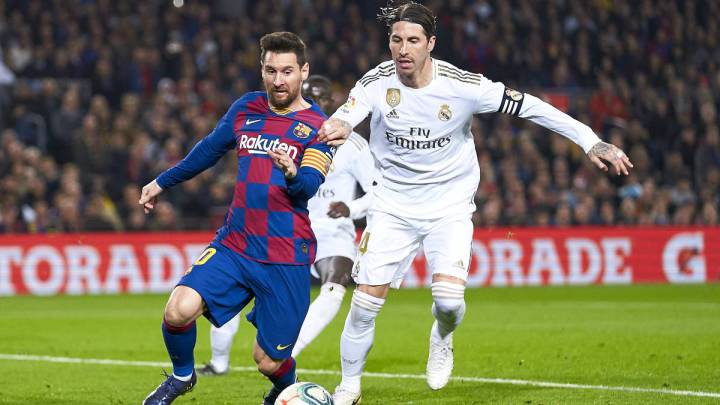 Barcelona hold a two-point lead over Real Madrid going into the second Clásico of the season, an eagerly awaited clash at the Santiago Bernabéu that will pit Quique Setién against Zinedine Zidane in the Barça boss' first taste of the eternal rivalry.
The Real Madrid manager has contested eight Clásicos during his two spells at the Bernabéu, winning three, drawing three and losing two. Not since the Spanish Super Cup in August 2017 has Zidane been victorious against Barcelona, the last two Liga Clásicos ending in draws after Barça beat Madrid 3-0 in the Bernabéu in December 2017, the last time the Frenchman oversaw a Clásico at the Bernabéu.
Here we have a look at some numbers from down the years.
Messi the Clásico king
Hat-tricks: There have been 28 hat-tricks scored in El Clásico, with Frenchman Jim Carlier bagging the first in 1913 and Luis Suárez scoring the most recent as the Uruguayan hammered a decisive nail into the coffin of the short-lived Julen Lopetegui era. Four players have scored two Clásico hat-tricks – Santiago Bernabéu (Real Madrid), Jaime Lazcano (Real Madrid), Ferenc Puskas (Real Madrid) and Leo Messi (Barcelona). The last Madrid player to net three times against Barcelona was Iván Zamorano in 1995.
All-time record: Sunday's game is the 277th Clásico in all competitions, with Barcelona holding the overall advantage with 115 wins to Madrid's 99 (62 Clásicos have ended in a draw). In LaLiga, the current score is 72 wins apiece, so one of the sides on Sunday can take the lead in that table as well. In terms of Liga goals, Barça's 5-0 drubbing of Eibar last weekend means that the visitors are currently the highest scorers in LaLiga history, with 6,151 goles to Real Madrid's 6,150.
Biggest wins: Real Madrid's controversial 11-1 Copa semi-final win in 1943 remains the single largest margin of victory in the history of El Clásico, although whether or not it should be counted is open to question as Barça effectively stood by and watched in protest at what they perceived as a clear pro-Madrid bias on the part of the match officials. The biggest Liga win for Madrid was an 8-2 victory in 1935 while Barça's 7-2 win in 1950 remains their record. El Clásico has finished 5-0 on seven occasions, the first time in 1935 as Barça avenged Madrid's record win and the most recent in 2010, when an ashen-faced José Mourinho suffered a manita in Camp Nou.
Record scorers: Leo Messi reigns supreme in the scoring charts, and is unlikely ever to be caught with the Argentinean netting 26 times in El Clásico in all competitions. Alfredo Di Stéfano and Cristiano Ronaldo lead the way for Madrid on 18 goals each. The only other current players for either side to have scored eight or more are Karim Benzema (nine) and Luis Suárez (11).
Most consecutive wins: Pep Guardiola's dominance over Madrid led to five straight wins for the current Manchester City boos between 2008-10, while Miguel Muñoz led Madrid to seven consecutive victories between 1962 and 1965. Barça hold the record for the most games finding the net, a run of 24 between 2011 and 2017.
Making the controversial move: Alfonso Albéniz was the first player to move between the two clubs in 1902, transferring from Barça to Madrid, and Luciano Lizarraga was the first to go the other way in 1905. Perhaps the most controversial was Luis Figo, who joined Madrid from Barça in 2000 and was not swiftly forgiven in Catalonia. The most recent player to move directly between clubs was Javier Saviola in 2007. A total of 39 players have represented both sides.
Television: El Clásico is the biggest single football event in global television, with the 2017 match between Barcelona and Madrid at the Bernabéu – immortalized by Leo Messi's late winner – drawing an estimated worldwide audience of 650 million people in 185 countries.
Credit where credit's due: three Barcelona players have received ovations at the Bernabéu: Diego Maradona in the Copa de la Liga in 1983, Ronaldinho in 2005 and Andrés Iniesta in 2015.