Real Madrid: Zidane pre-Clásico press conference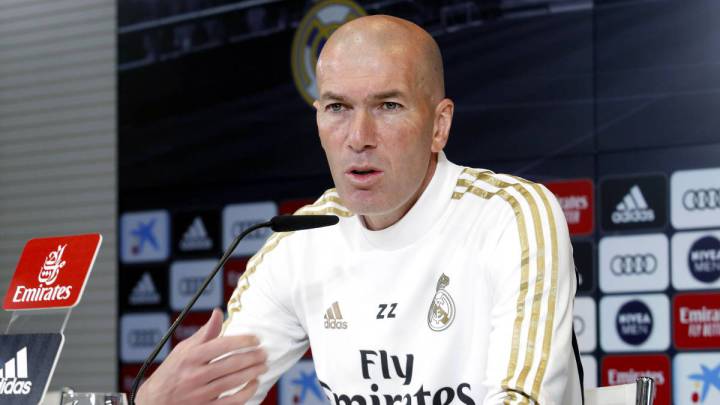 Zinedine Zidane: pre-Clásico press conference
Thank you for joining us for the brief-as-always press conference. You can keep up to date with everything Clásico related over on our rolling news for the big game.
In summary, the Real Madrid coach understands that results haven't been great of late and that people - fans and the media - are going to be looking for reasons why.
He is taking a more positive and pragmatic approach to them, however, and aims to flip the narrative on its head on Sunday night.
And that's that! Zidane has left the building...
On the opportunity for Sunday
"It's a great chance to turn the momentum. I'm a positive person and my players will go out to win."
On struggles for both clubs
"When a team drops points, people over-analyse. We are still working hard and looking forward to turning the tide.
"Both clubs are first and second in the table. Neither side is a disaster, we're the top two"
On nerves playing their part for nerves and the Bernabéu not being the fortress it once was
"That's why football is so good, nothing can be taken for granted.
"I could sit here for half an hour and talk about how the game could go. As I've said, we'll give it our best shot"
On Morientes comments about sitting around the hotel ahead of El Clásico taking forever
"We're fortunate to be able to be part of an occasion like this. We still have 12 games to go, and we'll still be in the title race if we lose."
On Braithwaite playing
"He's a good player. I'm not a stranger to him but Barça have a lot of good players. El Clásico is always full of top stars on the pitch."
On who can't afford to lose the Clásico
"It's an important game, of course, but there are lots of other games ahead. We'll give our best to win it."
On summer links to big name players including Inter's Milan Skriniar
"I'm focused on now"
On criticism
"You [the press] have a job to do and I have mine to do. We've had some bad results, but I have the strength to go on and the players to do so."
On Rodrygo red for Castilla
"Sometimes he'll make it into the squad, sometimes he won't. I've got lots of players to choose from."
On winning the title to remain as manager
"Well, that's someone else's decision. I know what I need to do...but you can only have one title winner."
On Messi-dependence in this Barça side
"We all know how important he is, he's their star player. We know what they can do as a team and what we need to do."
On Setién's comments on the importance of this game
"All our games are important. There are three points up for grabs, but it's a special game and we'll do what we can to win it.
On Kroos being out
"When you don't get the right result it's the media's job to analyse, but this wasn't because of Kroos being missing.
"We made a decision, and I chose a different team. You don't need to speculate, I have lots of choices"
On poor results
"It's delicate. It's true we've not had great results but this happens. We know we can change this. We're good enough and, with the fans behind us from the start...
"I understand our fans could be upset but we need them and we'll give 100%"
Asked about the City defeat
"This is football. We talk and listen, but things happen. Sometimes you're facing a top side. You have to analyse this and find a way."
The first question comes from RMTV and is about the 'heart and head' comments from Sergio Ramos...
"Yes, heart, head, togetherness. For us the most important is the second one. We are going to play in a great game and we believe we have a opportunity to do well."
Setién | "I didn't go to Real Madrid vs Manchester City only to see Pep [Guardiola]. I went to watch the game.
"We talked about everything. What City did at the Bernabéu can help us but only to an extent."
Setién | "Tomorrow could be an important day. A victory would give us an advantage, although I don't think it's one that guarantees we'll win the league."
Setién | "Alba is pretty good, and feeling positive. We'll have to decide if we can throw him in from the start."
This on the back of the news that Jordi Alba makes it into the travelling squad.
As you may have gathered, planned timings are not being adhered to. Zidane was expected to be out for us at 12:50 but...
While we wait, I'll let you know what Barça manager Quique Setién is saying across at his (maybe ZZ is watching and waiting!)
Right, the manager should be out any second...
It's an incredible 72-all in Clásicos but recent times have favoured the Catalans. If Barça avoid defeat at the Bernabéu it would actually see Madrid set a new worst record, failing to win eight in a row.
Many have suggested that Mendy has done enough in his performances to guarantee him the starting berth over Marcelo. Zidane, though, is an admirer of the Brazilian, and his attacking attributes, so we will have to see who he plumps for tomorrow. Maybe he'll give us a hint in the coming minutes...
The first time I met Zidane we spoke and he welcomed me, he told me I was part of his team and that I needed to show my worth, which says it all
As we look in from the outside, there are some key decisions for Zidane to make for this game. In this piece by Sergio Santos, the question marks are about Kroos, Vinicius and the full-backs
As you are no doubt aware, there are just two points separating Spain's top two sides but a loss for Los Blancos would open up a worrying five-point gap as we enter the run-in.
Zizou will almost certainly be asked about the importance of not losing on Sunday night, and there will be some attempts to find out his tactical plan against Setien's visitors.
There were a few hats and pairs of gloves in use by the Madrid lads this morning on what is a more February-feeling day in the capital, after some unseasonably warm weather recently.
.