Messi: the Bernabéu menace
The Argentine forward holds the record for the most goals scored against Los Blancos but is hoping to end a recent barren run in El Clásico.
Few players can claim to have such an intimidating effect on a football stadium as that of Lionel Messi with the Santiago Bernabéu.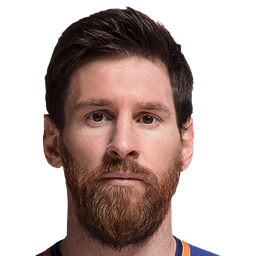 Messi's Bernabéu domination
There are clear reasons for Real Madrid fans to be fearful of the Argentine as he turns up once again at their famous home, dating back to his debut on 9 November 2005. Since then he has played in 21 games there (14 in LaLiga, one in the Champions League, three in the Copa del Rey and a further three in the Spanish Super Cup) and scored 15 goals. That throws out a chilling average of 0.71 goals per game, and so it's completely understandable when Los Blancos fans hold their breath at the moment the opposing number 10 receives the ball.
The goals didn't immediately come for Messi at the home of his eternal rivals. In his first three visits he did not find the net. On his debut there he started the match, and then proceeded to drive Roberto Carlos crazy playing as an out-and-out winger, at the tender age of just 18. He may not have scored, but he was close to doing so on several occasions. That day the glory went to Ronaldinho, who was even cheered from the Bernabéu stands, such was his performance.
Things didn't go quite so well the next two times that Messi went onto the turf at Chamartín with Madrid running out 2-0 and 4-1 winners, a guard of honour requirement included. But from there on, the beast awoke.
Messi scored two in the 2-6 triumph when he returned, and had it not been for an inspired Iker Casillas, it could have been more from the Argentine. This was the beginning of a five-game scoring streak for the Argentine at the Bernabéu, but something went wrong with his regular production of goals.
Messi's current poor streak
The 32-year old has not scored against Real Madrid since 6 May 2018 and at the Santiago Bernabéu he has not done so since 23 December 2017. In total there have been five Clásicos in that time (one he did not play in due to injury).
The recent 'white' drought has stretched to games at Camp Nou as well, and for someone that has played 42 games against his old foe and scored 26 goals (no one else has ever scored more), he is keen to end that run.
He arrives at the Bernabéu in good shape to do so after having broken a three-game mini-drought that slowed his run towards yet another Pichichi award. Sure enough, just as Van Basten explained with his Ketchup reference, it all came out at once, with four goals against Eibar. The home fans on Sunday evening will be hoping their own heroes can keep a lid on the dangerous forward, and maintain a barren Bernabéu run.