Clausura 2020: 10 notes from week 8
The current champions Monterrey remain at the bottom of the table after eight weeks, while America and Pumas will face each other after losing this weekend.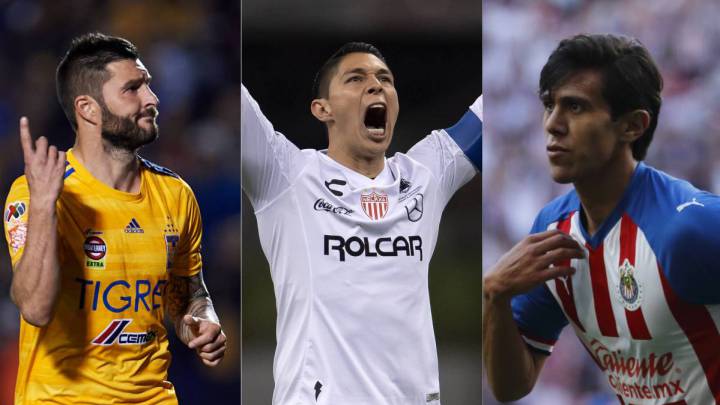 Another week ended in the Clausura 2020 and here are a few notes from AS. Toluca defeated Rayados in week 8 and América lost at home against Necaxa. Meanwhile, the player of this week was André-Pierre Gignac with his superb goal against Pumas at the Universitario stadium.
Cruz Azul started the week at the top of the table after eight games with their victory against Monarcas Morelia and Chivas now have back-to-back victories after defeating Club León at home.
The worst start in the history of Monterrey
The current champions of Liga MX have yet to get their first victory this semester. Monterrey lost 2-0 against Toluca and they remain in the bottom of the table after eight games. So far they have three draws and eight losses. This is the worst start in the history of a team that won the title.
Bravos have their eyes on playoffs
Gabriel Caballero is doing a wonderful job managing Bravos in their return to the first division. This weekend they defeated Atlético San Luis 3-0 and are currently in fourth place. Their goal is to make it to the playoffs for the first time in the club's history.
Cruz Azul didn't lose a game in February
The machine is very well oiled and unstoppable at the moment. Cruz Azul defeated Monarcas Morelia and with that victory they remained undefeated in the month of February. They woke up being the number-one team of the semester with 16 points. Cruz Azul have played a total of seven games in all competitions and have won six of them and tied one.
Puebla conquered Tijuana
Puebla visited Xolos on Friday night and defeated them 1-0. They now have back-to-back victories thanks to Cristian Tabó, who has been a key player this semester. On the other hand things are not looking good for Xolos because in their last two home games they have lost 1-0 and they have six points from eight games.
Pachuca paid tribute to Jorge Witker
Pachuca mourned the death of journalist Jorge Witker and they decided to pay a little tribute to him by giving his family half of the money they earned from the tickets they sold that night against Querétaro. Before the game started, there was also a minute of silence. At the end of the 90 minutes, both teams earned a point after a 1-1 tie.
Necaxa defeat América at the Aztec stadium
Necaxa came, saw and conquered Club América on Saturday night after defeating them 3-0. The home team came to this game with many injuries so a lot of the academy players were called up to the first team. On top of missing key players, Bruno Váldez and Santiago Caséres saw red cards, leaving América with nine players. Their next game will be the derby against Pumas and the players who got the red card won't be available to face one of the most important games in their calendar.
Gignac just loves scoring against Pumas
The French international had a phenomenal game against Pumas and scored a hat-trick to give Tigres UANL the three points. Since arriving in Mexico Gignac has scored a total of 12 goals against Pumas, his favorite victim in Liga MX. On the other hand the home team now has back-to-back losses and Luis Quintana will miss the clash against América because he got a red card.
Chivas is back on track
Guadalajara have back-to-back victories and are currently in eighth place. On Sunday night they hosted Club León and defeated them 2-0 with goals from Macías and Beltrán. The goal for this tournament is to make it to the playoffs since they haven't done that in the past five tournaments. Their next rival will be the derby against Atlas.
11 straight losses for Rafael Puente Jr. as manager
Things are not looking good for Atlas and current manager Rafael Puente Jr. He arrived in Guadalajara four games ago and has lost all of them. After their 1-0 defeat against Santos he now has 11 straight losses as a head coach, because prior to Atlas he lost seven games in a row in his time with Querétaro. Atlas will have a tough match in week 9 when they host Chivas in the derby.
'Big four' teams dominate the playoff picture
Cruz Azul, Pumas, América and Chivas are currently in the playoff positions after eight weeks. Even though América and Pumas lost, they remain in second and fifth place, respectively. Meanwhile, Cruz Azul are at the top with 16 points and Chivas hold the last ticket to the postseason in eighth place.