BARCELONA
Barcelona dressing room "fucked up" after Clásico defeat
Barcelona's trip back home after the Clásico defeat to Real Madrid was filled with silence and the dressing room are 'fucked up' and 'dejected'.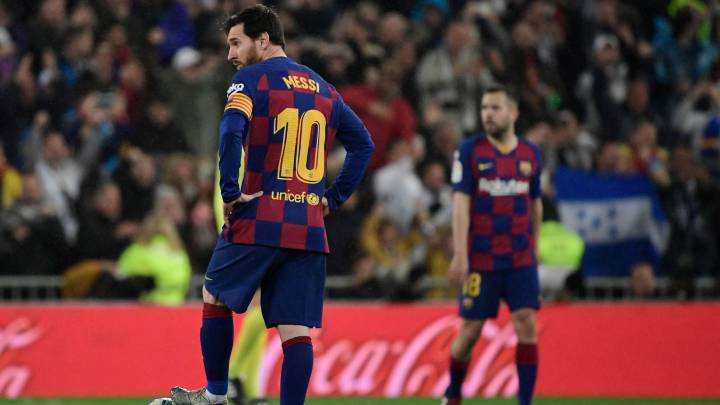 "Fucked up, resigned and dejected," were the three words used to describe Barcelona's dressing room by a source after the loss to Real Madrid in the Clásico on Sunday night. The return trip to Barcelona felt like a genuine funeral mainly because the team feels like they let Madrid off the hook just when they looked at the point of surrender. They also lost the top spot in the league and now have to chase rather than lead. They started to noticed too that they are running low on battery.
LaLiga Santander
*Update 2 de marzo de 2020
With 12 games left and 36 points to play for, the players were aware that they could have given Madrid a serious scare on Sunday. A win at the Bernabéu or even a draw would have left their rivals in a very compromising situation with a foot and a half out of the Champions League and with ground to make up in the league. Now though, the situation has turned 180. Madrid are the leaders in LaLiga and have been given a timely boost of moral for their return trip to Manchester in Europe.
Return trip to Barcelona like a funeral after Clásico
Sullen faces and a defeaning silence filled the bus on the return trip and not even Josep Maria Bartomeu tried to raise spirits. The president continues without the goodwill of the players after the recent social media scandal despite what is said on the record by either party. Quique Setién tried to lift the team with a brief chat after the game in the dressing room and thanked the players for giving their all after the game before they got back on the bus.
In LaLiga, they sit one point behind Madrid and two when you consider goal difference. And so, Barcelona have one bullet left and that is the Champions League as they look to turn a strange season on its head. It was Messi himself who came out and said that this squad isn't good enough to win the Champions League.