Atlético still haven't won away from home in 2020
The Atlético Madrid coach paired Carrasco and Koke in an extra line in a 4-2-2-2 set-up, playing through the middle and in front of Thomas and Saúl.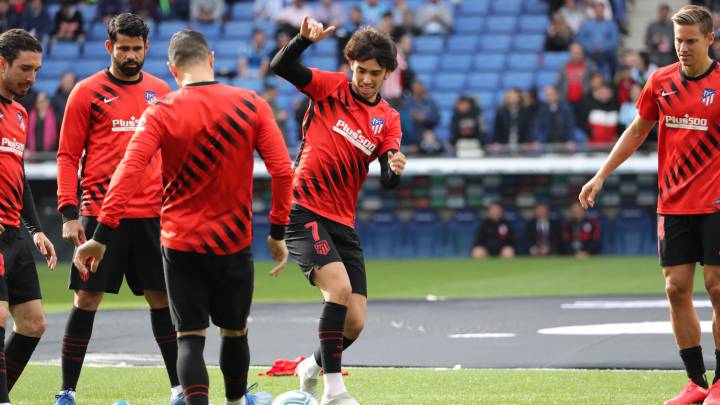 Atlético went into Sunday's game at Espanyol with another experiment hiding up Simeone's sleeve. The coach started out with the usual 4-4-2 (Oblak; Trippier, Felipe, Savic, Lodi; Koke, Thomas, Saúl, Carrasco; Correa and Morata), which occasionally changed to a 4-2-2-2 with Carrasco and Koke pairing up for form an extra line playing through the middle, just in front of Thomas and Saúl. The idea was to free up the wings for both full-backs - the only extra attacking option open to El Cholo apart from Oblak launching moves from goal-kicks and throws.
Atleti exposed on the left for Espanyol's opener
It was an idea which didn't go to plan. The midfielders failed to track back to help the defence in the move which produced Espanyol's first goal, leaving Lodi to deal with Javi López and Wu Lei on his own. The Chinese player had time to get to the byline and put over a cross which Savic, under pressure from Raúl De Thomás and Sergi Darder, bundled into his own net. Oblak pulled out a brilliant save to prevent Espanyol doubling the lead, tipping a Víctor Sánchez volley from just outside the area onto the bar.
Espanyol were outclassing Atleti in terms of football and outperforming them in intensity so Simeone had to make changes. The coach, with 300 million euros worth of talent on the bench (João Félix, Diego Costa, Vitolo, Marcos Llorente, Mario Hermoso and Vrsaljko) introduced João Félix for Carrasco 10 minutes into the second half.
It was an odd choice - as was the decision to leave Marcos Llorente on the bench - just after he has seemingly earned his place in the side. Odd because João Félix has not grasped one of the basics of Cholismo, which is being able to think about defending while you are attacking. The Portuguese player doesn't think defensively and rarely drops back to help out.
Eight minutes prior to that, Vitolo, Costa and João Félix had been warming up on the touchline when Saúl unleashed a potent volley to level the score. Atlético had started the second half with a 4-3-3 formation (Oblak; Trippier, Savic, Felipe, Lodi; Thomas, Koke, Saúl; Correa, Morata, Carrasco) - which they kept when João Félix came on, in Carrasco's place on the left. Five minutes later he brought Costa on for Morata. And on 69 minutes, Vitolo took over from Correa as Atlético reverted back to a 4-4-2 (Oblak; Trippier, Savic, Felipe, Lodi; Koke, Thomas, Saúl, Vitolo; João Félix and Diego Costa). However, by switching system, Atleti allowed Espanyol back into the game and with a new chance to win the game.
Atlético's last away win was in December
Even with his full artillery out on the pitch, Simeone's Atlético lacked the punching power to find a way past Espanyol's defence. The result means that Atleti have not won away from home since the New Year started, (their last away win was against Betis before the Christmas break). Part of that was down to Espanyol doing a good job at the back; meanwhile Simeone is growing increasingly more frantic in his touchline behaviour in every game and that nervousness is having a negative effect on some of his players, in particular, the forwards.