REAL MADRID
Real Madrid: Mariano puts Jovic on notice
Every time Zidane asks something of Mariano, he responds, unlike Jovic. Real Madrid are struggling got goals and he could be the answer.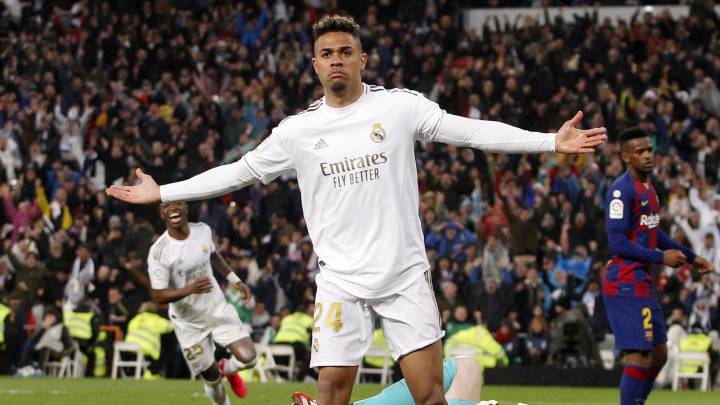 Mariano is the player Zinedine Zidane has used least least this season but the striker has refused to throw the towel in and make it easy for Luka Jovic. He was thrown on at the end of the Clásico in what looked more like an effort to kill the game than to win it for Real Madrid. Mariano scored the second to end Barcelona's hopes of a comeback after Vinicius scored the opener to help Madrid leapfrog their rivals in LaLiga.
The last goal with that held such significance was in 2006-07 when Real Madrid beat Barcelona 3-1 and won the league title based on head-to-head between the sides. That brought them to Cibeles to celebrate despite finishing the league with 67 points apiece.
Mariano's inexplicable lack of playing time
Nobody can explain why Mariano has played so little. In January, it looked like he would leave the club but he is in peak physical condition now and ready for action, which is the opposite of Jovic. "Others don't want to play these minutes," said Alvaro Benito on El Partidazo. "Mariano comes on ready to take on the world."
Zidane, however, played down the important of the cameo. "He has given everything in three minutes," he said after the game but in the press conference, his tone was more sober. "Jovic is ahead of him. Mariano is the third striker."
He has only played 47 minutes but a goal against a keeper of Ter Stegen's status is a boost even if he is invisible to the manager. For a Madrid side struggling for goals and with Vinicius revitalising the Bernabéu, Mariano might offer an energetic partner. They need to keep their heads for 11 more games in the league and need to mount a comeback at the Etihad.