Germany, Switzerland and Ukraine: Spain's Nations League rivals
Four-time world champions Germany are Spain's big rival for top spot in Group 4. The qualifiers will be played between September and November.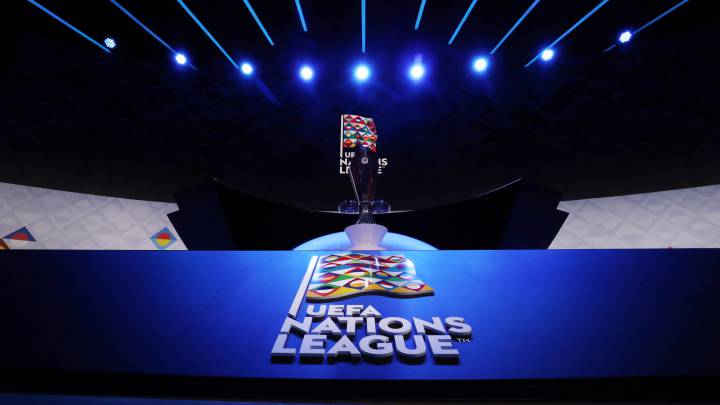 Germany, Ukraine and Switzerland are Spain's rivals in the second edition of the UEFA Nations League following today's group stage draw in Amsterdam. Qualifying matches will be played between September and November this year while the tournament stage, which will feature the four champions of League A will take place on 2, 3 and 6 June 2021. The relegation play-offs will be played in March 2022. UEFA has changed the competition format from three countries per group to four, which in turn, increases the number of qualifiers from four to six.
Germany, four-time world champions and three-time European champions, pose the biggest threat to Spain to log first place in Group 4 - even though in the last edition of the Nations League, they ended bottom of their group behind Netherlands and France. They were not relegated thanks to the change in the format. Spain have a friendly lined up against Germany for 26 March at the Wanda Metropolitano in Madrid.
Switzerland topped their group in the last tournament and were knocked out by Portugal in the semi-finals.
The Nations League will also have an influence on the qualifying round of 2022 World Cup Qatar. Out of the 55 participating teams in Europe, the 10 group winners will automatically qualify for the tournament proper; meanwhile the 10 runners-up plus the best two group winners from the Nations League will go into the play-offs, from which three teams will qualify for Qatar 2022.
The champions of Leagues B, C and D will move up a division while the team which finishes bottom of Leagues A, B and C will move down a division.
Today's Nations League draw in full:
League A
Group A1: Poland, Bosnia-Herzegovina, Italy, Netherlands
Group A2: Iceland, Denmark, Belgium, England
Group A3: Croatia, Sweden, France, Portugal
Group A4: Germany, Ukraine, Spain, Switzerland
League B
Group B1: Romania, Northern Ireland, Norway, Austria
Group B2: Israel, Slovakia, Scotland, Czech Republic
Group B3: Hungry, Turkey, Serbia, Russia
Group B4: Bulgaria, Republic of Ireland, Finland, Wales
League C

Group C1: Azerbaijan, Luxembourg, Cyprus, Montenegro
Group C2: Armenia, Estonia, North Macedonia, Georgia
Group C3: Moldava, Slovenia, Kosovo, Greece
Group C4: Kazakhstan, Lithuania, Belarus, Albania

League D
Group D1: Malta, Andorra, Latvia, Faroe Islands
Group D2: San Marino, Liechtenstein, Gibraltar
Fixtures calendar

Matchday 1: 3-5 September 2020
Matchday 2: 6-8 September 2020
Matchday 3: 8-10 October 2020
Matchday 4: 11-13 October 2020
Matchday 5: 12-14 November 2020
Matchday 6: 15-17 November 2020
Final tournament: 2, 3, 6 June 2021
Relegation Play-offs: 24, 25, 28, 29 March 2022