Barcelona: Ter Stegen future at LaLiga club up in the air
According to a report on Catalunya Ràdio, Barcelona goalkeeper Marc-André ter Stegen doesn't know whether he'll be at the club next season.
Amid tricky times at Barcelona, Blaugrana fans have been given further cause for concern after it emerged on Tuesday that there are doubts about goalkeeper Marc-André ter Stegen's future at the club.
Ter Stegen reportedly rejects book offer over uncertain future at Barcelona
Speaking on Catalan radio, the reporter Lluis Canut revealed that a fellow journalist recently met with Ter Stegen to propose collaborating on a book on the German next season - but had her offer turned down because the player did not know whether he'd still be at Barça in 2020/21.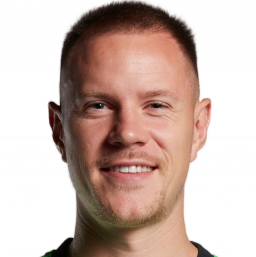 Ter Stegen, Messi believed to have had bust-up
The anecdote, told on the Catalunya Rádio show 'El Club de la Mitjanit', takes on further significance in light of recent incidents involving Ter Stegen. In Barça's Clásico defeat to Real Madrid on Sunday, it was surprising not to see a single team-mate congratulate him after his extraordinary save to deny Isco.
Furthermore, reports surfaced in January of a furious war of words between Ter Stegen and club captain Lionel Messi during a Barça training session.
Earlier in the season, meanwhile, Ter Stegen raised eyebrows by publicly castigating his side for their performance in their 2-1 Champions League win over Slavia Prague, telling reporters: "We didn't reach the standards we want to be setting; we didn't play well. Thankfully, we've come away with the three points, but there are a few things that we need to discuss as a team."
It appears that such talks did not have the desired outcome: judging by recent events, the divide between the 27-year-old and other members of the Barça dressing room has only grown.

Prising Ter Stegen from Barcelona would not be easy...
However, a Ter Stegen transfer away from the Camp Nou does not look like being straightforward. Firstly, because he has a 180-million-euro release clause and still has over two years left on his contract; secondly, because it will be extremely tough to persuade Barça to part with a keeper of his quality, one with the potential to be the club's number one for the next decade.