Real Madrid: Odegaard "would have loved" to join Messi at Barcelona
Norwegian agent Kent Karlsen has revealed that Barcelona were at the front of the queue for the midfielder until a FIFA transfer ban gave Madrid the advantage.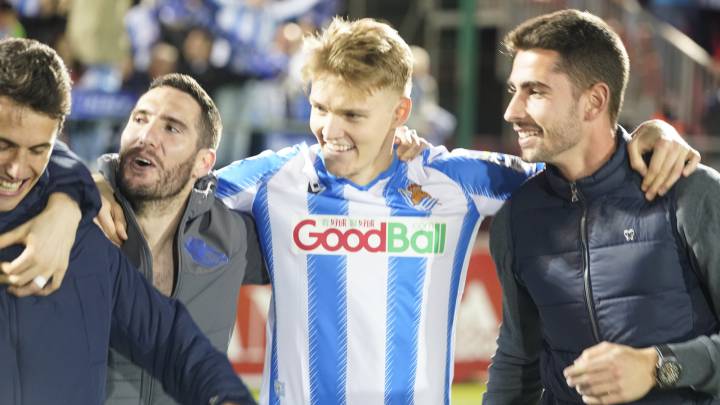 Former Lillestrom footballer Kent Karlsen, who is now an agent, has explained in interview the thought process behind Martin Odegaard's move to Real Madrid in 2015 and revealed that he was in involved in talks to deliver the highly rated teenager to Barcelona before he finally signed at the Bernabéu.
Odegaard, then 15, was snapped up by Madrid in January 2015 from Stromsgodset for a fee of between €3m and €4m after being courted by half of Europe following his emergence in the Norwegian top flight and having made his international debut at 15 years and 253 days, the youngest player in history to represent his country. However, Barcelona came close to landing Odegaard before he made the move to Madrid, initially to play for reserve side Castilla under Zinedine Zidane.
"We had an initial meeting in Norway and then we were invited to Barcelona," Karlsen told Spanish radio station SER. "We visited the club and met [then-sporting director Andoni] Zubizarreta, who told us all about the project there with the development of youth football. They invited us to watch a Champions League game between Barça and Ajax. It was a very special night."
Although Odegaard's father thought a move to a "very important club" like Barcelona was a good idea, the Camp Nou was under a transfer embargo at the time over the signing of youth players, while Madrid had successfully appealed a similar ban and had it reduced by the Court of Arbitration for Sport to a single transfer window. "The FIFA ban left Barcelona at a disadvantage because they were prevented from signing for a year, which meant that Martin would have to spend another year in Norway and that worked against them," Karlsen said.
Odegaard and the Zidane effect
That effectively gave Madrid a clear run at Odegaard and the deal was agreed in January 2015. "Why did we choose Madrid? At the end of the day it was a complete package. They designed a plan for Martin: to train with the first team and it was a good plan. Zidane was going to very involved and the whole club presented a wonderful project. In the end he followed his instinct, the feelings he had," said Karlsen.
However, the agent added that Odegaard, who is currently shining on loan at Real Sociedad, had always admired one player in particular as a child: "He definitely would have liked to play with Messi. He was the player Martin studied when he was a kid. He tried to imitate his passes, his dribbling, his vision, everything. I can't say he dreamed of playing with Messi because I don't know. Obviously you can't compare anyone on the planet to Messi. He's the best in the world, that's why when you watch Martin play you can see the learning process and how much he studied Messi."