REAL MADRID
The man who discovered Vinicius speaks about his early years
Carlos Eduardo Abrantes is considered the man who discovered Vinicius and speaks about his early years at the Flamengo school where he developed.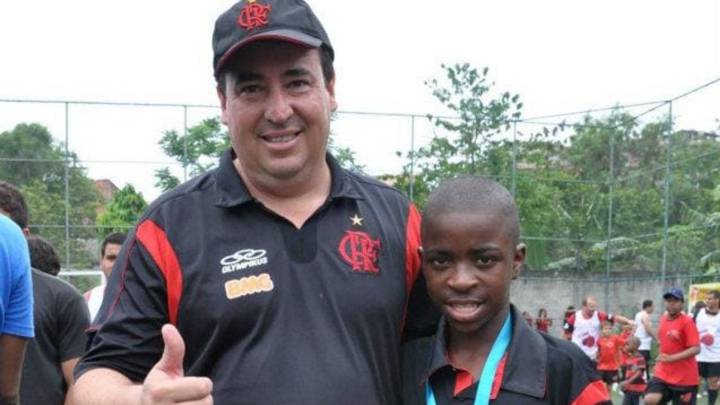 Carlos Eduardo Abrantes (Brazil, 1971), is better known as Cacau, and is the director of the Escolinha de Flamengo, where Vinicius started out as a very young footballer. Cacau is considered the man who discovered the current Real Madrid player and he spoke to AS to analyse Vinicius' recent form and early years.
— Did you see the Clásico?
—Of Course, we are all delighted for Vini.

— What he is missing is goals. Did he score much as a youngster?
— Many, many, many. He was always the top scorer in all of the competitions he played in, always lifting trophies as the top goalscorer.
— Why is it more difficult for him now?
— It's a matter of letting him play. With minutes, players gain confidence and the goals come naturally. If he had confidence without playing, I'm sure that with continuity he will score lots of goals.
— Do you see him getting better?
— I'm sure of it. If he is given chances and he can play, he will stand out like last season. He will improve a lot including goals.
"Vinicius era un niño muy rápido en el campo, pero muy tímido fuera"
Carlos Eduardo Abrantes 'Cacau', descubridor de Vinicius.
— Vinicius started playing with Sao Gonçalo natal. How is it?
— It's in a city with a lot of people, the second biggest municipality in Rio de Janeiro. They are very humble people with a lack of many things, where a lot of people live but they have to work away from there.
— Is that what happened with Vinicius' parents?
— His mother stayed in Sao Gonçalo and his father worked in Sao Paulo, in another state. He was an building manager. His mother took him to training and looked after those things.
— Is it a dangerous area?
— Yes, yes, very much so. Now, it is moreso than at that time. There is a lot of poverty too. It's a city that needs a lot of public investment and doesn't get much.
"Vinicius era de Flamengo, pero hablaba de Cristiano y soñaba con ser profesional en el Madrid"
Cacau, descubridor de Vinicius.
— Why did he go to your school?
— One of his friends recommended him to. It helped that it's a Flamengo school and his family are Flamengo fans... it's the club of his heart.
— How did it go the first time you saw him?

— In our school, he arrived at six years of age. From the first training sessions, he drew attention from people. And he trained with guys older than him. At seven years of age, he was playing against nine-year-olds and with a lot of skill.
— What type of kid was he?

— A very easy-going kid and very fast on the field but very shy off it. He didn't speak much... After he started to let loose. On the field he was freed!
— Did you help him and his family?
— We got him a schoolbag to bring to training because they had financial difficulties. We We helped him where we could. We also got him boots although he ended up getting a contract with Nike. His family did the rest with regards to transport above all when he started in the academy. His parents got him everything, they are so important in his career.
— Who does he remind you of?
— He was always a very fast player, with distinct characteristics. I don't know if you can compare. He made decisions quickly, did everything with speed. Maybe, as a kid, in the way he plays with speed, Robinho but they're not comparable. Like now: Vinicius is Vinicius.
— Who did he want to become?
— He dreamed of playing as a professional footballer with Real Madrid and with the Brazil national team. They were his objectives in life and he is living one of them every day and he will do it with Brazil once he gets his debut.
— He was a Madrid fan?
— He was a Flamengo fans but he spoke about Madrid and Cristiano. The kids focus on the Champions League and the teams that stand out.
— What did the people say about him?
— They were all very impressed with his speed and they said it: parents of other players, managers of other teams spoke about him.. he was the best playing with players older than him.
— Do you speak much anymore?
— We always speak when he comes to Brazil, and if he can, he comes to the school although now with his commitments it is very difficult. He always does it when he can. And we are always talking on the telephone.
— Have you been in Madrid?
— Yes, last year. We stayed in his house for ten days. We went there, went to some games. It was a lovely experience. His family and him have always treated us very well.