Achraf Hakimi: "If Real Madrid want me to go back, I'll go back"
In an interview with Téléfoot, Achraf discussed the possibility of returning to parent club Madrid when his loan at Borussia Dortmund ends.
Speaking to the French television programme Téléfoot, Borussia Dortmund's Achraf Hakimi has looked ahead to the Germans' Champions League last-16 second leg with Paris Saint-Germain on Wednesday.
The full-back, who is on a two-year loan at Dortmund from Real Madrid, also discussed the possibility of returning to his parent club in the summer.
Hakimi's interview with Téléfoot:
You've been at Borussia Dortmund for the past two seasons. Was moving to Signal Iduna Park the best decision you could have made?
When I stop and think, I realise that it was the best decision I could have made, because I'm playing and developing as a footballer, which is what I need to be doing.
You've managed 10 assists and six goals this season. You're not just a defender, you also know how to attack and score goals.
It's been my best season as a player. I'm not a defender who stays back - I also like to get involved in the attacking side of things, get forward and help the team both in defence and attack. I see myself as a modern defender.
Dortmund take a 2-1 lead into the Champions League return against PSG - how did you manage to beat them in the first leg?
It was a really tough game, given the players they've got. But by working together, by all defending together and fighting for each other, we've got ourselves ahead in the tie and can go to Paris with that little bit more confidence as we look to qualify. We need to put in the same kind of performance there, because it's going to be even tougher at their ground. We need to defend well and take any chances we get.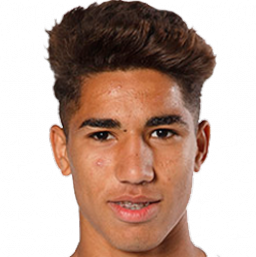 Are you surprised by Erling Braut Haaland?
No, I'm not surprised. When you've got a goal-hungry striker like him, you're not surprised; they live for goals. His goals are really helping us and let's hope he carries on in the same vein for a long time, because that'll be really good for us as a team.
Do you expect to see the likes of Neymar and Kylian Mbappé going all guns blazing in the second leg?
Yes, they're players who love these kinds of games and are ready to perform in them. But we're going to do everything we can to stop them putting in top performances.
Has Zinedine Zidane been a special figure for you?
Yes, Zidane is the man who gave me my chance and the confidence to be able to play professional football. I'm grateful to him for his faith in me and the way he has treated me. I'll always be grateful to him.
Would it be your dream to write the next chapter in your career at Real Madrid next season?
Real Madrid are the club I call home. I've really enjoyed myself there and played lots of games there. If Madrid want me to go back, I'll go back. And if not, I'll have to write the next chapter at another great club.
What do you hope to achieve between now and the end of the season?
Individually, I'd like to keep on supplying assists, scoring goals and developing both as a player and a person. On a collective level, I hope we can achieve as much as possible; in the short term beat PSG, and in the longer term try to win a trophy like the Bundesliga or go as far as possible in the Champions League.
Could you even win the Champions League?
Yes, anything's possible. Hopefully we can go as far as possible and win it if we can. And if not, then come away with the feeling that we've done well and given our all.