Arda Turan: "I wanted to remain under contract with Barcelona"
The Turkish midfielder pointed out that technically, he is still a Barcelona player. "I plan to continue playing, but outside of Turkey," he said in an interview.
Arda Turan has spoken about his immediate plans in football and made it clear that technically speaking, he is still a Barcelona player. "Right now I am a Barcelona player as I'm still under contract. It was a mutual decision. I wanted to remain under contract with Barça. I'll probably continue playing at a foreign club next season, a club outside of Turkey but if Galatasaray call me, I'll be delighted to help and without any  conditions. Galatasaray is the only club who I would join without conditions," Arda explained.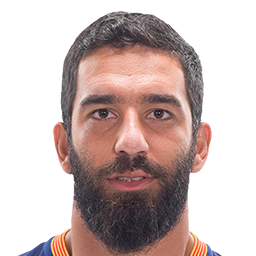 Arda Turan, happy days at Atlético
Watching Arda Turan in action with Atlético Madrid back in the day was a sight to behold and the midfield says the league title he won with the Rojiblancos remains the highlight of his professional career. "To be honest that was an exceptional success for me. We had won LaLiga with Atlético - beating Real Madrid with Cristiano Ronaldo and Barca with Messi. That was a fantastic season. We also won five or six trophies in Europe. I think that start of that successful period was beating Real Madrid to win the Copa del Rey at the Santiago Bernabéu. That was special for me too. I was also proud of Turkey's victory against Iceland [to qualify for Euro 2016]. The Copa del Rey was very special for me", he recalled about his time at Atleti.
Simeone never surrenders - Arda Turan
Diego Simeone is one of the coaches who got the best out of Arda Turan and the player says he will always be grateful to El Cholo. "Both Diego Pablo Simeone and Fatih Terim  are very special coaches. El Cholo never gives up. He's a leader, someone who is full of energy. He has the ability to get his ideas across the players in a very intense way. He is always able to motivate you. During my career, Terim and Simeone are the top two coaches".
Arda Turan hails Messi: "The best player I've ever seen"
As for the best player he has ever faced, that's easy... "What more can be said about Messi? He is the best player I have ever seen. I also really admired Iniesta, for how skillful he was out on the pitch. At Atlético, Koke is a very important player. He's managed to keep his place in the first team at Atlético and he's turned himself into a leader. I was really taken aback at how he progressed", Arda added.
Another player who the midfielder thinks highly of is Radamel Falcao, his old team mate at Atlético: "He's an exceptional striker. I said exactly the same when he was out injured. I spoke with him a couple of times on the phone when I was trying to get him to sign for Galatasaray. Now, he's got to keep doing what he's always done - score goals and give out assists. He's one of the best in the world. I always help him. I invited him and his family over for my birthday and we celebrated it together. I also helped Adriano when he was at Besiktas and Diego Ribas during his time at Fenerbahçe", he concluded.