REAL MADRID
Militao can't shake doubts about his Real Madrid future
Militao was set to start against Manchester City but he did not impress against Real Betis and he caused more doubts over his future during the game.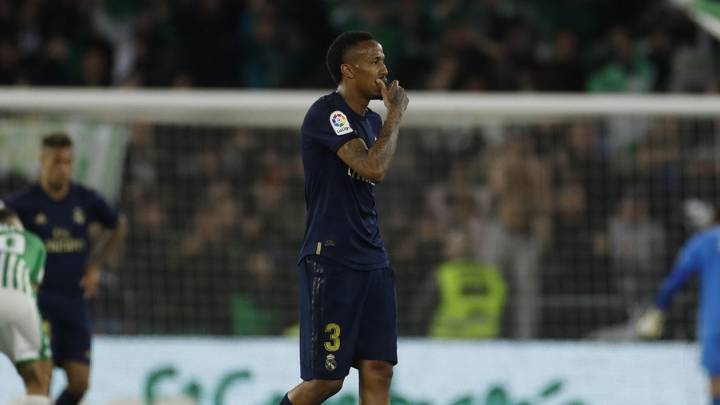 Real Madrid's loss at the Benito Villamarín to Real Betis was a final. Eder Militao knew that too. The Brazilian knew that after Man City's victory over Real Madrid in the first leg of the Champions League last 16 game, he would be starting in place of suspended Sergio Ramos in the return leg on 17 March.
"I see a good future for him," said Zidane about the summer recruit back in November. "It's true that he hasn't played much but he is our third central defender and I'm counting on him."
With the coronavirus throwing a spanner into the works of the season, Militao's future is not as certain as it once might have seemed. Doubts have crept in over his performances and development.
Those comments back in November sent Nacho down the pecking order. The versatile defender has won everything with Madrid and his performances are not prone to much variance. It was a logical decision that Militao would assume the role of third choice defender.
He was signed in the summer for €50 million and was a big gamble for Madrid, and Juni Calafat, the man who has made the big decisions at the club in recent years. Carvajal and Nacho's absence with the flu meant Militao was a certain starter against Betis with Zidane needing to plug him in at right-back. It's a role he knows well though having played there a lot for Porto. He didn't erase any doubts and might have created even more.
Statistically speaking, Militao wasn't very good. He connected on 48 of 64 passes and only won 5 out of 12 duels while recovering the ball seven times. That's half the number Varane managed (14). He committed three fouls and suffered against the inspired Nabil Fakir.

In theory, he was the man ready to play in place of Ramos this Tuesday ahead of Nacho. He has played more than 300 minutes more than the Spanish defender. That game isn't going ahead though and doubts remain. What is not in doubt is that Ramos and Varane are the chosen two with more 3,000 this season apiece.
Militao has been on the field for some of Madrid's worst losses this season including the PSG humiliation, the Mallorca defeat, the Copa del Rey loss to Real Sociedad and the game against Betis now too. He hasn't scored yet either and is not the player Real Madrid expected when they signed him as a long-term replacement for Ramos in the summer.