REAL MADRID
The effect Covid-19 will have on Real Madrid's bank balance
Madrid will lose out on a lot of money given LaLiga might not be finished. They also miss out on European finances and their Bernabéu tour.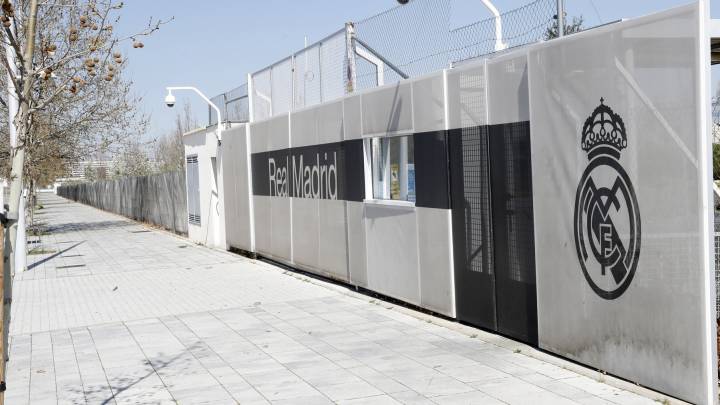 Real Madrid entered quarantine on Thursday following the news that Trey Thompkins had tested positive for coronavirus. That prompted the club to suspend all activities, with all employees off work until further notice. It means that 400 club employees must now stay at home and await further instructions from the club while no shops, apart from food stores, chemists and tobacconists are open in the capital. It also forced the club to take several difficult decisions, one of which was to close the Bernabéu Tour. Madrid is putting health first but what are the economic consequences of the coronavirus pandemic on the club's earnings?
That is a difficult question to answer accurately as it depends on how long the present situation continues. LaLiga have estimated that the crisis will cost top flight clubs in Spain 679 million euros - 549 million in lost revenue from television broadcasting rights, a loss of 88 million in projected income from season ticket holders and an additional 42 million in gate receipts. And the biggest losers of all out of the 20 LaLiga clubs are Barcelona Real Madrid. Barcelona stand to miss out on 160 million euros, and Madrid slightly less, around 150 million. LaLiga are confident that the situation will improve to be able to finish LaLiga, although probably with all of the remaining fixtures played behind closed doors. The Spanish Football Federation are less optimistic and have weighed up all of the possible scenarios – including one in which no more games are played this season .
Losses incurred from season tickets and gate receipts is difficult to estimate as it would depend on how many home games Real Madrid play between now and the end of the season – if any at all. Income from season tickets during the 2018-19 season came to about 50 million, while gate receipts brought in around 119 million euros. A total of 27 games were played that season at the Bernabéu so the takings, on average, is about 4.4 million euros but that figure also includes income gained from the basketball team's games at the WiZink Center (in Madrid's accounts, receipts for football and basketball games are combined in the same section).
So let's say a football match at the Bernabéu brings in around four million euros – not forgetting that Madrid will also lose income from suspended basketball games – the Liga Endesa and Euroleague are both on hold until further notice. This season, Madrid had a minimum of six games left to play at the Bernabéu and a maximum of eight - if they manage to beat City and advance to the Champions League semi-finals.
So, four million euros, multiplied by six or eight if no more home games are played or all of the remaining fixtures take place behind closed doors. On top of that, Madrid would need to offer a refund to all of their season ticket holders for the games they will have missed. Some of that would be covered by insurance but so far, that is an issue which Madrid have not looked into.
Then there is the Bernabéu Tour, which will incur significant losses - it is the third most visited museum in the capital, after El Prado and Reina Sofía. Around 1.3 million visitors sign up for the Tour every month which generates income of about 17-18 million euros (the club posted revenue of almost 29 million euros in 2018-19). Real Madrid would be losing around 1.5 million euros per month while the stadium tour is out of action.
Madrid missing out on European financial windfall too

Madrid would also face lost income in the Champions League. Up until now, Madrid have earned 34.4 million euros in prize money in the competition (15 million for taking part in the group stage, 9.9 million for the results gained during the group stage and 9.5 million for taking part in the Last 16). Madrid is already entitled to that prize money –regardless of the outcome of the return leg against City. Where they will lose out is through the television rights and market pool – a variable amount depending on the country and how the tournament develops.
The financial black hole while Madrid face could be manageable or fairly serious – depending on how long the situation continues. The biggest problem, if all of the remaining games are cancelled, would be paying the salaries of club employees. Madrid posted earnings of 757.3 million euros in 2018-19 and were forecast to bring in 822 million this season, although after the pandemic, that won't be the case now. In the previous season, more than half of the club's annual revenue went on paying employees' wages - 394 million euros (that figure includes salaries, Social Security payments, bonuses, earnings through image rights…).
Around 300 million euros of the wage bill corresponds to the football first team squad – including the coaching staff: 30.3 million goes to the basketball team and 45 million to non-sports personnel within the football section. It's highly likely that Madrid's wage bill has risen considerably after all of the club's transfer activity last summer (Hazard, Mendy, Jovic, Militao…), which means the club will have a bigger financial commitment to fulfil. Financially, Madrid's accounts are robust, but like everyone else, they are not immune from taking a hit as a consequence of the coronavirus crisis. The message from the club is that whatever happens, the players will receive their wages in their entirety.