Real Madrid: Jovic faces arrest if he flouts coronavirus lock down
Serbian President Aleksandar Vucic said that famous people do not enjoy special privileges: "The lives of our people are much more important than their millions."
Luka Jovic has apologised for ignoring Serbia's calls for citizens returning to the country amid the global Covid-19 pandemic to go into self-isolation. The Real Madrid striker was given permission by the club to go to Serbia after returning a negative test for coronavirus last Thursday but failed to quarantine himself on his arrival a day later, drawing sharp criticism from Prime Minister Ana Brnabic after being spotted out and about in Belgrade, which could have further repercussions after the Serbian interior minister said police reports had been filed against "some famous athletes."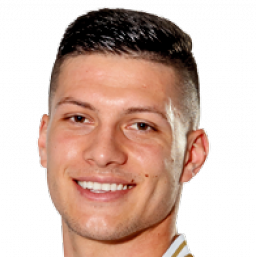 Jovic apologises for not self-isolating
Jovic has now apologised for his actions on social media. "Considering the situation in the world and in our country is very difficult, something we have never seen before, I have to come forward and send my support to everybody," Jovic wrote on Instagram. "First of all, I am very sorry that I have been the main story in these days and that everybody has been writing about me and not about the important people fighting against this crisis, the doctors and everybody who works in the health services. In Madrid my test for Covid-19 was negative. For that reason I decided to travel to Serbia, to help and support our people and to be closer to my family, with the permission of my club. 
"When I arrived in Serbia I was tested and it was negative. I am very sorry that some people did not do their jobs professionally and did not give me instructions on how to behave regarding isolation. In Spain I was allowed to go the pharmacy and the supermarket, which isn't the case here. I would like to say I am sorry to everybody if I put anyone at risk in any way. I hope that together we can overcome this. To Serbia, all of my support, and we'll get through this together." 
As well as criticism from Brnabic, who noted the "negative examples from our football stars, who are getting paid millions and are ignoring mandatory self-isolation upon returning home," Jovic may face further action from the Serbian authorities. 
Criminal complaints filed against "famous athletes"
Follow the latest developments on the coronavirus pandemic with AS English.