REAL MADRID
Real Madrid fastest player: Fede Valverde takes the title
The Real Madrid midfielder is the fastest player at the club this season as he beats out Vinicius, Carvajal, Mendy and Bale in the race to the top.
Under Zidane, his presence is vital and his transfer value has sky-rocketed too. The Uruguayan has played 2,068 minutes in 32 games and he has scored two goals with four assists. His 23 starts, sometimes ahead of Kroos and Modric, make him the 8th most used player by the French manager.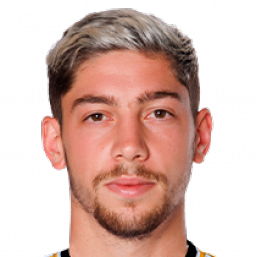 The 21-year-old is also close to achieve another record. That of the fastest player at Madrid with a speed of 35.1 km/h. That figure beats Vinicius (34.6), Carvajal (34.4), Mendy (34.3) and Bale (34.2).
He is currently level with Adria Pedrosa from Espanyol, the fastest player this season. A few players just behind them are Óscar at Leganés and Hernani at Levante with 35 km/h. Alex Moreno, Braithwaite, Canales, Ferran Torres and Marcos Llorente with 34.9 km/h.
Valverde quicker than Barcelona rivals
There is no player at Barcelona who is quicker than Valverde either. The closest to him was Carles Pérez, who reach a top speed of 34.67 km/h followed by Braithwaite and Dembélé at 34.6 km/h, Semedo 34.5 and Piqué 34.1. The curious number there is the Dane but he reached 34.9 km/h when he was at Leganés.
Cristiano Ronaldo hit his top speed of 33.6 km/h in 2017 and that number would not feature in Madrid's current top rankings. Valverde is quick but he is still not as fast as Luis Advíncula, the Rayo Vallecano defender, who hit 36.2 km/h during his time in Mexico.