Real Madrid's Jovic facing backlash after signing Covid-19 lock down document
Serbian media have been circulating a document that all citizens had to sign on returning after the lock down, agreeing to self-isolate during Covid-19 lock down.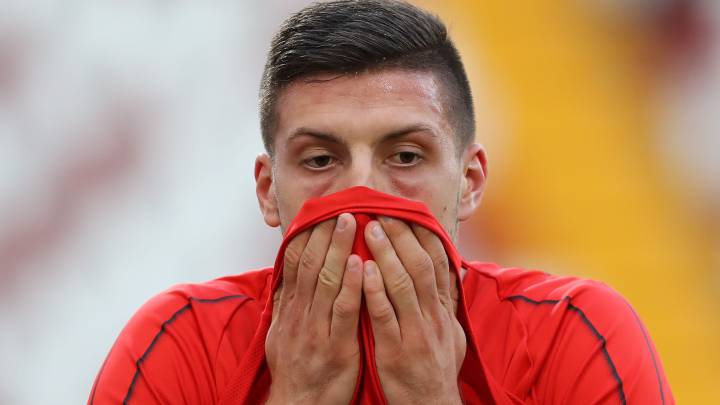 Luka Jovic has been in the eye of the storm since returning to his native Serbia last week after being given permission by Real Madrid to fly to Belgrade during the shut down of European football enforced by the Covid-19 pandemic. The striker, who has been publicly dressed down by both the prime minister and president of Serbia for failing to comply with coronavirus regulations in place in the country argued that he has not been informed of his obligations on arrival and placed the blame on "some people did not do their jobs professionally."
That reasoning has now been called into question by the Serbian media, who have pointed out that all nationals returning to the country from abroad after the shut down was put into place last Sunday were required to sign a document that laid out the restrictions in place and required a name, address and telephone number.
A copy of this official document, apparently signed by the Real Madrid striker, has been circulating in Serbian news outlets and states: "As well as complying with compulsory quarantine in home self-isolation [the signee] must also advise the Serbian Public Health Institute via telephone of any change in their state of health for monitoring purposes."
Jovic facing public backlash in Serbia

Whether or not the signature on the document is genuinely that of Jovic, AS has been able to verify that every person arriving in Serbia since the lock down was enforced - especially those from France and Spain - were required to read and sign it.
Serbian public opinion has not been kind to the international forward, with some suggesting that he simply did not bother to read what he had signed, but others have pointed out that he shuld have been fully aware of the measures in place as in Serbia, much like the rest of Europe, little else is being discussed between people on the ground, politicians, news outlets or television stations.
Serbian President Aleksandar Vucic issued a public, thinly veiled warning to Jovic, Ascoli midfielder Nikola Ninkolic or anyone else defying the ban that they would face arrest, noting that "the lives of our people are much more important than their millions."
Separately, Interior Minister Nebojsa Stefanovic told television station Prva that 80 police complaints had been filed but against people who had failed to heed the Covid-19 lock down regulations, without specific mention of Jovic.