Pogba to Real Madrid: now or never for LaLiga giants
Real Madrid may be approaching their best chance yet to sign Manchester United's Paul Pogba, who remains at the top of Zinedine Zidane's wish list.
Real Madrid may be about to get their best chance yet to sign Paul Pogba, a player greatly coveted by head coach Zinedine Zidane. Just as he was four years ago, it appears that the France midfielder could well be up for grabs this summer.
United must negotiate new Pogba deal this summer - or sell
Pogba is under contract at Manchester United until 2021 and, AS has learned, the Premier League club have made contact with his agent, Mino Raiola, with a view to renewing that deal. However, United are well aware that if the 27-year-old doesn't extend his terms at Old Trafford, their best bet would be to cash in on him instead.
Raiola's differences with United and, in particular, manager Ole Gunnar Solskjaer, are by now no secret. Indeed, the two parties are not even on the same page when it comes to how long Pogba's contract is supposed to last. Speaking to the UK radio station Talksport in February, before Euro 2020 was postponed until next summer, Raiola said: "He is committed to Manchester United only until the end of the European Championship, and then we will talk to the club if we need to."
The reality, though, is that Pogba put pen to paper on a five-year deal when he rejoined United from Juventus in 2016, with the club also including the option to unilaterally extend that agreement by 12 months. It is a clause that United chief executive Ed Woodward insists on as a matter of course; January signing Bruno Fernandes also had to agree to it, for example.
However, sources with intimate knowledge of Pogba's situation have explained to AS that, in the Frenchman's case, triggering this option would be a bad idea: "It would only serve to anger the player and persuade him to push through his departure." At best, it would leave Pogba doubly determined to leave the following year, this newspaper was told. United therefore have little choice but to try to negotiate his contract renewal this summer - to avoid him heading into the final year of his deal - or sell. For Madrid, it is the ideal opportunity to swoop for the World Cup winner.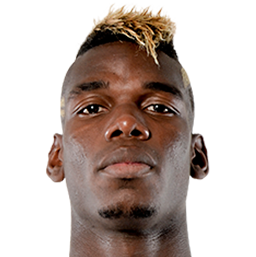 Relations between United and Pogba are strained, with the club accusing Raiola of creating a "culture of division". The agent appears hell-bent on engineering a move for a midfielder whose asking price last summer was 200 million euros, but who looks like being available for significantly less this time around. "Paul is our player and not Mino's," Solskjaer complained in February after an attack by Raiola in the media, leading the Italian to respond: "Paul is not mine and for sure not Solskjaer's property, Paul is Paul Pogba's. You cannot own a human being already for a long time in the UK or anywhere else. I HOPE Solskjaer DO NOT WANT [sic] TO SUGGEST THAT PAUL IS HIS PRISONER."
Real Madrid could get Pogba for cut-price 100m euros
Pogba cost United 120 million euros, during a summer window in which Zidane's Madrid had also chased the star. "He's a great player, I like him - he's really good," Zidane told reporters at the time, leaving Bernabéu president Florentino Pérez in no doubt about his preferences. However, Madrid were attempting to cut costs and baulked at the price of the deal. Yet after an injury-plagued season in which Pogba has made just eight appearances for United, it is estimated that he could now leave for 100 million euros - a fee that could go down further, depending on how significantly the coronavirus crisis affects football's financial situation.
Zidane and Pogba have an excellent relationship, and the player would be a perfect fit for the new, quick-transition football that his compatriot is instilling at Madrid in his second spell in charge. The pair were able to catch up in Dubai last October, enjoying a long talk that UK newspaper The Mirror caught on camera and splashed across its pages. "We just happened to bump into each other - it was pure coincidence," Zidane later explained. Pogba's departure would now not be nearly as painful for United, who have a new fan favourite in Fernandes and are expected to snap up Jack Grealish from Aston Villa.
For Madrid, it is a case of now or never.