Real Madrid: Mino Raiola no longer obstacle as Peréz pursues Pogba and Haaland
There is a marked improvement in Real Madrid's relationship with Raiola, who has two players on his books who could prove to be fundamental to the club's future, Pogba and Haaland.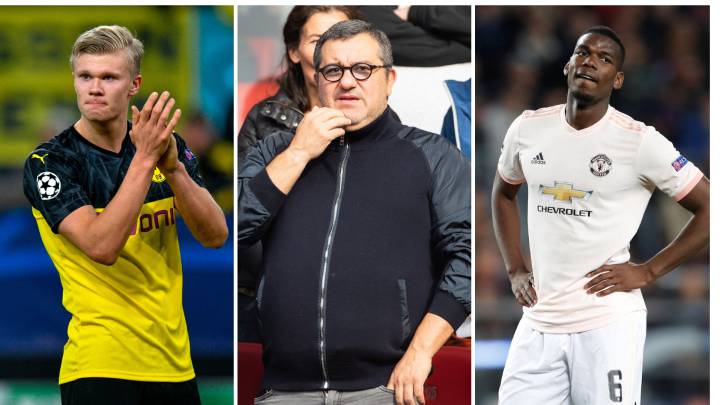 It is no secret that Real Madrid president Florentino Peréz's relationship with super-agent Mino Raiola is far from rosy.
Perez holds a disliking to the harsh and aggressive negotiation methods employed by the Italian agent. The last time the two collided was in the summer of 2016, when Madrid were looking at signing Paul Pogba from Juventus on the request of Zinedine Zidane.
But Raiola's excessive demands, which were also related to his commission, were one of the reasons why the operation was not carried out. Raiola, by his part, was upset because he believed that Madrid's president was not willing to go above and beyond to sign the player. Madrid, for example, refused to meet Pogba's salary demands.
Madrid-Raiola relationship four years on
But almost four years have passed and while the relationship between Peréz and Raiola is still tense, the communication between the agent and Real Madrid is fluid at least.
This is mainly because of the warm relationship between Raiola and Madrid's general director José Ángel Sánchez. "But that does not mean that they always agree," a source close to both figures told AS.
The same source says that PSG keeper Alphonse Areola, one of Raiola's clients who is currently on loan at Real Madrid, has also been a factor in the improved relationship between club and agent.
Pogba and Haaland
Raiola currently has two players on his books who could prove to be fundamental to Real Madrid in the near future.
The first and most important is Erling Haaland, the 19-year-old revelation of the season who signed for Borussia Dortmund from RB Salzburg in January. As it stands, the Norwegian has a 75-million-euro buyout clause in his current contract with the German club – a price which is a significant under-reflection of his potential and current performance levels.
The other player is Paul Pogba, who, once again, is a personal request of Zidane. Manchester United are keen to renew his contract but the player himself would prefer a new challenge, meaning Madrid have a great opportunity to sign him.
In today's current climate, Madrid's chances of signing both players will be improved if the relationship with Raiola is fluid. Agents are gaining more and more influence in modern football and the Italian agent is part of a select list of agents that dominate the business – a list which also includes Jonathan Barnett (agent to Gareth Bale) and Jorge Mendes (agent to Cristiano Ronaldo).
In addition to Pogba and Haaland, Raiola also represents the likes of Donnarumma, Balotelli, Ibrahimovic, Mkhytariam, Justin Kluivert, Irving Lozano, Manolas, Romagnoli, Insigne and Verratti.