Erick Gutiérrez yearning for football to return
The Mexican midfielder who is currently playing for PSV in Netherlands says he has been watching shows and spending time with his family during quarantine.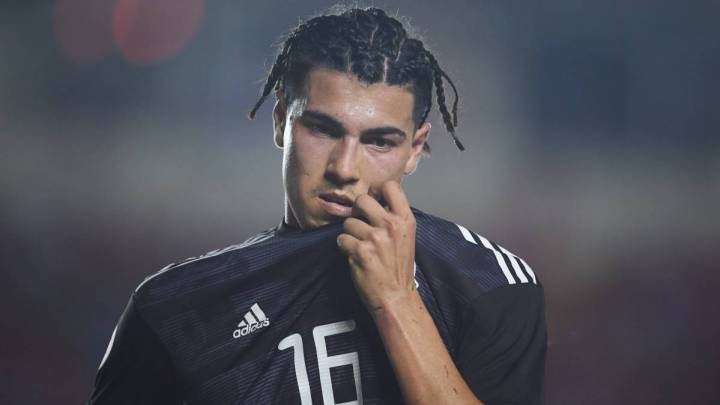 The European soccer leagues were some of the first competitions to cease activity due to the coronavirus pandemic and it is not clear when they will be rescheduled yet. At present the number of cases and deaths keep increasing creating a degree of uncertainty as to when and if the season will terminate.
The Eredivisie is one of the affected leagues due to Covid-19 and it is where Erick Gutiérrez plays with his team PSV. The Mexican midfielder was interviewed by ESPN and he said how he is dealing with being quarantined during this pandemic.
👊🏿👇🏿👇🏿👇🏿👇🏿👇🏿👇🏿👇🏿👇🏿👇🏿👊🏿
👉🏿👍🏾👇🏾👇🏾👇🏾👇🏾👇🏾👇🏾👇🏾👍🏾👈🏿
👉🏿👉🏾👍🏽👇🏽👇🏽👇🏽👇🏽👇🏽👍🏽👈🏾👈🏿
👉🏿👉🏾👉🏽👉🏼 🤲🏻🧼 👈🏼👈🏽👈🏾👈🏿
👉🏿👉🏾 #LávateLasManos 👈🏾👈🏿
👉🏿👉🏾 🔴⚪️ #elPSV ⚪️🔴 👈🏾👈🏿
👉🏿👉🏾👉🏽👉🏼 🤲🏻🧼 👈🏼👈🏽👈🏾👈🏿
👉🏿👉🏾👉🏽👍🏼👆🏼👆🏼👆🏼👍🏼👈🏽👈🏾👈🏿
👉🏿👉🏾👍🏽👆🏽👆🏽👆🏽👆🏽👆🏽👍🏽👈🏾👈🏿
👉🏿👍🏾👆🏾👆🏾👆🏾👆🏾👆🏾👆🏾👆🏾👍🏾👈🏿
👊🏿👆🏿👆🏿👆🏿👆🏿👆🏿👆🏿👆🏿👆🏿👆🏿👊🏿 pic.twitter.com/jvWEojkboU

— PSV Español (@PSVespanol) March 18, 2020
"I am a little worried about the situation, but I think that as long as we all follow the necessary steps we should be fine. I really hope this pandemic ends soon and we all get through this. We've been quarantined for a while now and I have been spending this time with my wife and son watching series like Narcos and All or Nothing," said Gutiérrez.
The PSV player also said that even though he enjoys spending time with his family he misses playing football and going to practice, "It is nice to be with them and do things around the house but I miss football so much. What I am doing is working out and playing football with my sons."
The Eredivisie standings before being postponed
Ajax started the season strongly and were everyone's favourite to retain the title but in the month of February they started dropping points while AZ, Feyernoord and PSV added to their respective tally more to make things more interesting at the summit of the table.