REAL MADRID
James on the way out of Real Madrid
James Rodríguez is not in Zidane's plans and his contract in 2021. Real Madrid are now obliged to sell him this summer or lose him for nothing.
James Rodríguez' time at Real Madrid is coming to an end. The Colombian has seen the coronavirus complicate an already complicated situation and has pushed him, just like Bale, closer to the exit. Before football screeched to a halt due to the pandemic, Zidane showed that James wasn't in his plans and with a contract that is ending in 2021, there are two options; a transfer this summer (most beneficial option for Madrid) or else he can leave for free next year with the chance to negotiate this January.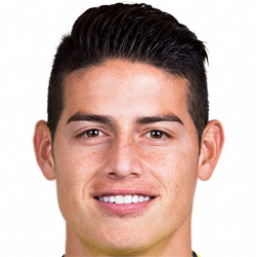 The Colombian's significance at Real Madrid has been on the decline. The 'unexpected' signing of James from Bayern where he returned from last summer seemed to be a boon for the club. He has only played 650 minutes this season though and is 21st on the list of most used players. In LaLiga, he is practically exiled. Before the suspension of football, we hadn't seen him for various reasons since October 19 during the 1-0 loss to Mallorca
James on the fringes at Real Madrid
In the Copa, James' last hope for a comeback, the elimination against Real Sociedad left him without a chance to prove himself further. Losing 0-1 at the break, Zidane took him off. After that, he didn't even come out to warm up during Real Madrid's loss against Real Betis despite the consequences that came with a defeat - losing the top spot in LaLiga.
The controversial injury he suffered on Colombia duty didn't help. In November, returning from injury, he travelled with Carlos Quieroz' squad and re-injured himself. "He isn't injured, he isn't available," Zidane said afterwards. Colombia announced he had done ligament damage and he was out of Zidane's plans again.
James will be 29 in July. He has no place at Real Madrid anymore and Martin Odegaard's rise leaves him further on the fringe. The left-footed Norwegian is younger and has a similar profile to the Colombian. Madrid's options are limited though. Last summer, they didn't get the offer they expected (€50 million) from Napoli and Atlético, the two most interested clubs. His wages remain a hurdle for any club (€7.75 million net) during a market that will be and already has been rattled by the coronavirus. Real Madrid don't want to risk losing him for a nothing, however, after paying €80 million in the summer of 2014 to land him.