Real Madrid concern for Achraf as Europe's top clubs circle
Juventus, Chelsea and PSG have shown an interest in the Morocco international, whose contract expires in 2021. Madrid are obliged to renew or sell...
Achraf Hakimi is one of the names which is getting mentioned more than most during the break in football for the coronavirus pandemic. The Morocco international has impressed during his second season in the Bundesliga on loan at Borussia Dortmund and that has not gone unnoticed by a number of Europe's top clubs, who have him down on their wish list. In Italy, several media outlets report that Juventus are lining up an offer for the full-back and last week, The Daily Mirror revealed that Chelsea are interested in signing him. Yesterday, the web site PSG Talk,who have close ties with the club, was discussing PSG's summer rebuilding project in which an offer for Achraf was mentioned.
Real Madrid delighted with Achraf's progress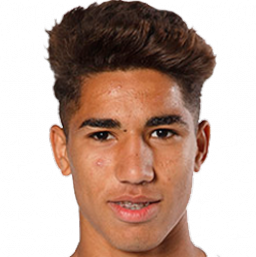 As far as Real Madrid are concerned, Achraf's two-year loan spell at Borussia Dortmund has been a complete success both for the club and for the player - so far, he has played 65 games and racked up a total of 5,249 minutes playing time; he's scored 10 goals and dished out 17 assists - figures most defenders would be proud of. And on top of that, he's gained his first taste of silverware, winning the German Super Cup.
But the player's contractual situation is a concern for Real Madrid. Achraf will be out of contract in June 2021 which means Madrid must decide whether to renew the player's contract or sell him this summer to prevent him from leaving on a free contract next year. From what AS understands after consulting club sources, Madrid had intended to offer Achraf a new, five-year extension but coronavirus crisis has put all but the most pressing issues on hold. "We still do not know what we are going to do with Achraf," the club admitted. But Madrid are aware of the defender's potential and value in the transfer market.
As for the full-back position at Real Madrid, Zidane has too many players for two positions. As things stand, two players are untouchable - Dani Carvajal, who is 27 years old and Férland Mendy, who's 24. It looks like those two will be first choice next season. In the meantime, Zidane and Madrid must decide what to do with the squad's other full-backs - Marcelo (31 and under contract until 2022), Odriozola (24 and under contract until 2024), Reguilón (23 and under contract until 2023) and Achraf (21 and under contract until 2021). Madrid seem to have already decided on selling Odriozola and as Marcelo has two years left to run on his contract, it looks likely that th fourth full-back slot will be contested by Reguilón and Achraf. In the Moroccan's favour, he is able to play on both wings.
Loaning Achraf out for a couple of years was a great move by Madrid (as it was with Dani Carvajal at Bayer Leverkusen). When Achraf arrived in Germany, his market value was 7.5 million euros (according to Transfermarkt), now, after two impressive seasons in the Bundesliga, he is worth 60 million...
Achraf: "I'm only focused on continuing to develop"
Achraf has been quizzed over his future several times in recent months. In October last year, in an interview with AS he said: "I'm not going to lie, I'd love to be a success at Real Madrid, of course. I grew up at Madrid, it's the club I call home and I'd like to keep on growing as a player there, but if it isn't to be I'll look to be a success somewhere else". At least as far as the immediate future goes, the defender is happy just to be playing at the top level: "Here in Germany, I'm getting a chance to play," he told Cadena SER a few weeks ago. "In my mind, all I am thinking about is continuing growing as a player". It's possible that Real Madrid will offer Achraf the chance to renew then loan him out again, to a foreign club where he will gain regular minutes - which would enable Marcelo time to finish his contract. But those are the issues which player and club need to discuss this summer.