Real Madrid: Arteta wants Jovic at Arsenal, fans aren't convinced
According to reports in the UK, Arsenal have reserved 55 million euros to put in an offer for the Real Madrid striker but fans and pundits have other ideas.
The first mention of Arsenal's interest in Luka Jovic appeared a few days ago in the English press. They claimed that Mikel Arteta is keen to add the out-of-favour Real Madrid striker to his squad for the new season. The same report went on to say that Arsenal have earmarked 55 million euros from their budget which will go towards luring Jovic to London this summer. The Serbian striker has had a season to forget at Real Madrid, since joining on a 60 million euro transfer from Eintracht Frankfurt last summer.
Jovic has had a discreet first season in Madrid, scoring just a couple of goals in 24 appearances but he didn't do himself any favours by breaking the quarantine which all members of the football and basketball section were obliged to comply with, to travel back home to Serbia. For certain sections of the Arsenal fanbase, that is a sign that the player could pose discipline problems - 75% said they won't want the club to sign him for that reason in a recent poll.
Campbell and Ferdinand not sold on Jovic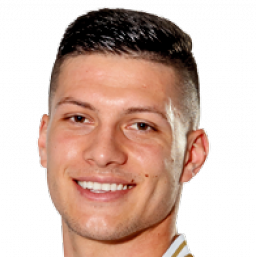 And football pundits in the UK also have their reservations. Arsenal legend Sol Campbell, for instance thinks Jovic isn't the player the club is should go for: "Would he be able to fit into the system Arsenal play? I don't think so. I watch a lot of Spanish football, I've seen Jovic play and don't think he'd fit in at our club. Even Zidane doesn't really rate him".
Rio Ferdinand agrees: "He hasn't done anything at Real Madrid, but the potential he showed at Eintracht turned him into a player who people thought highly of. It's a different story though when a player goes to a big club, and that's why Arsenal can't make the same mistake". At the moment, it seems not everyone in London is keen on Jovic. These are difficult days for the Serbian.