Real Madrid's Eden Hazard has had a positive month
One month after his operation in Dallas, the Belgian winger is feeling good and, despite the tragic bigger picture of coronavirus, is set to miss considerably fewer games.
A month ago it seemed as there were more doubts than certainties in the life of Eden Hazard. The Real Madrid man had just undergone surgery on 5 March in Dallas, USA and was set to miss the rest of the season with his club as well as the European Championships with one of the favourites Belgium, a very unlikely possibility. Now, with LaLiga and the Euros interrupted by the coronavirus pandemic, the player is physically and emotionally feeling optimistic on a footballing front. It's a very different picture to that of just a few weeks ago.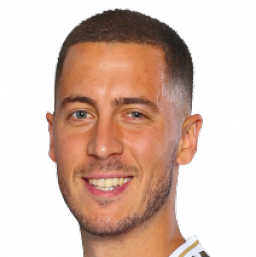 Hazard targets Madrid return
Those who know Hazard say that, despite some concerns about the visit to the operating table, Eden was only really feeling down on the night of the injury, which came against Levante on 22 February. Since then, and without underestimating what happened and how it would influence his short-term future, he remained as he normal cheery self, always joking. He travelled to the United States and then returned to Madrid where he has been at home like the rest of the players at the club and everyone in Spain.
On his return, apart from the talk with Dr Mihic and José Ángel Sánchez at the Valdebebas training facility about the required quarantine due to Trey Thompkins testing positive for Covid-19, his recovery has gone well. The post-op period and the first two weeks thereafter are often decisive in determining how long a player is out of competitive action were positive. His stitches were removed and there was good noises coming out of the initial evaluations.
Working out at home with his wife and children, a place where he has been visited by medical professionals from the club, he has been able to take a more lengthy approach to the rehabilitation than was expected due to the situation created by the virus.
Ready to welcome football back
Hazard felt sure that he would make it back in time for Euro 2020, but there were huge question marks over what state he would arrive there. And there were even more doubts over whether he'd step back onto the pitch in his club's shirt.
Now, with an estimated recovery of the end of May, and with the Euros moving to 2021, he may find that he gets a chance to play the rest of the league season with Los Blancos as well as the final stages of the Champions League. There are clearly still many doubts about when football will return, but now when it does, a certain Belgian should be there to welcome it back.