Coronavirus: total India cases and deaths, real-time map, 9 April
Updates on the total number of confirmed Covid-19 cases, deaths and discharged patients, both in India and worldwide.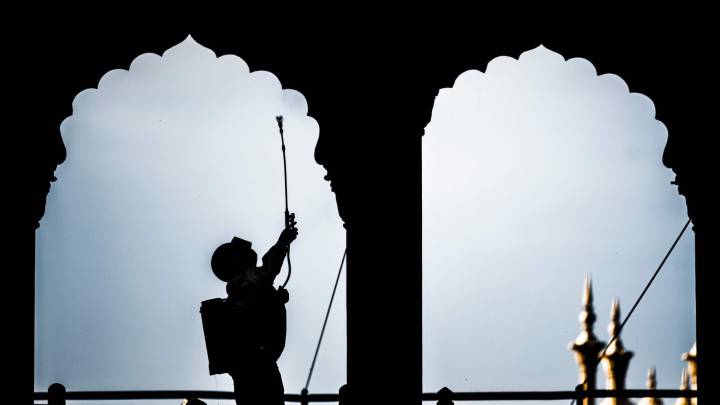 Confirmed India coronavirus cases
As of 03:50 IST (00:20 CEST) on Friday 10 April, there had been 6,725 confirmed coronavirus cases and 226 deaths in India. 620 people in the country have recovered after contracting Covid-19.
Abbas can't see India-Pakistan ODI series happening "any time soon"
Pakistan batsman Zaheer Abbas has said he doesn't see an India-Pakistan series taking place soon, despite former player Shoaib Akhtar suggesting a three match ODI series to raise funds for Covid-19 relief. "I think it is very difficult. We have been trying for long but I don't see it happening in near future," Abbas told the Press Trust of India in an interview. Abbas said "life should come back on track" in the face of Covid-19 before any sporting events could be contemplated. Both the Pakistan Super League and the Indian Premier League are currently suspended.
India and Pakistan involved in border fighting amid Covid-19 virus
Indian and Pakistani troops in disputed Kashmir are engaged in their most frequent cross-border fighting of at least two years, official data shows, even as both nuclear-armed rivals battle surging coronavirus outbreaks.
Kashmir has long been a flashpoint between the neighbours but tension was renewed after New Delhi withdrew the autonomy of the Himalayan region last August and split it into federally-administered territories.
Worldwide real-time coronavirus map
Click here if the map doesn't automatically appear. (Map created and hosted by Johns Hopkins University Whiting School of Engineering, our thanks to them.)
Worldwide coronavirus cases
The total number of confirmed coronavirus cases worldwide at the above time stood at 1,587,209. In total, 94,850 people have died from Covid-19, while 353,291 have recovered from the disease.
See also:
Multi-million drop in phone users fuels China death-toll doubts
Lockdowns and curfew extensions in India: Punjab, Odisha, Mumbai...
Live coverage of the coronavirus crisis
You can keep abreast of the latest developments in the coronavirus pandemic by following our daily live blog.
---
The complete lowdown on Covid-19