Coronavirus: total UK cases and deaths, real-time map, 9 April
Updates on the total number of registered Covid-19 cases, deaths and discharged patients, both in the United Kingdom and worldwide.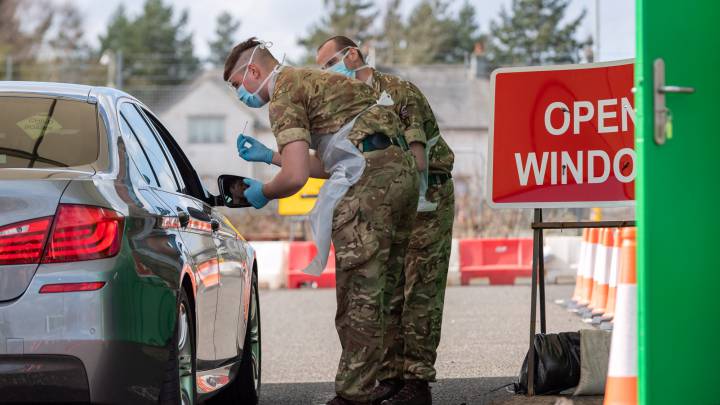 Confirmed UK coronavirus cases
As of 01:30 BST on Friday 10 April (02:30 CEST on Friday 10 April), there had been 65,863 confirmed cases of coronavirus in the UK, with 7,992 deaths in total. A total of 357 individuals have officially recovered from Covid-19.
Worldwide real-time coronavirus map
Click here if the map doesn't automatically appear. (Map created and hosted by Johns Hopkins University Whiting School of Engineering, our thanks to them)
Worldwide coronavirus cases
The total number of confirmed coronavirus cases worldwide at the above time stood at 1,602,619. In total, 95,657 people have died from Covid-19, while 355,671 have recovered from the disease.
Boris Johnson improving
UK PM Boris Johnson's health continues to improve according to Downing Street. He remains in "good spirits" as he has throughout his hospitalisation for Covid-19. Johnson is receiving oxygen in the intensive care unit at St Thomas' Hospital in London.
He was taken there on Sunday, 10 days after testing positive, and was moved to intensive care on Monday. On 3 March, prior to testing positive, Johnson had vowed the coronavirus would not stop him shaking hands, insisting he had even shaken hands with everyone at a hospital where infected patients were being treated.
Yesterday the chancellor, Rishi Sunak, said Johnson's condition was improving, "He has been sitting up in bed and engaging with the clinical team".
Boris Johnson has now spent three nights in intensive care after his condition with Covid-19 worsened.
Straight-talking from Newsnight presenter Emily Maitlis
UK lockdown set to continue
The UK lockdown will be reviewed next week, but it is expected that the lockdown will be extended as the country attempts to get on top of the coronavirus crisis.
Dominic Raab, standing in for the Prime Minister while he is in hospital said this afternoon that "The measures will have to stay in place until the evidence shows we have moved beyond the peak" and he urged people to stay at home "for everyone's sake" this bank holiday weekend.

Current restrictions oblige the public to stay at home unless they are shopping for basic necessities (such as food or medicine), exercising (limited to once a day), seeking medical assistance or to avoid injury, illness or escape the risk of harm, providing care or assistance to a vulnerable person, providing emergency assistance or donating blood, travelling to work or to carry out voluntary services where these cannot be carried out from home.
See also:
Wuhan free after 76 days of lockdown
Which countries have declared state of emergency?
Live coverage of the coronavirus crisis

You can stay up-to-date with the latest news on the coronavirus pandemic by following our daily live blog.
---
The complete lowdown on Covid-19