Jovic pleads for forgiveness
After his controversial departure from Spain a few weeks ago, the striker remains in quarantine in Belgrade training on a daily basis with a fitness coach.
Luka Jovic is hoping to start from scratch after leaving Madrid with a state recently declared in Spain, returning to the Serbian capital to be reunited with girlfriend Sofija Milosevic. Despite Serbian citizens signing an agreement of isolation, local newspaper Blic claims that striker has not complied with the terms of lockdown as stipulated by the government.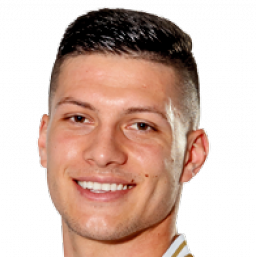 His behaviour was frowned upon by Serbian PM Ane Brnabic who stated: "You will all have seen the way our overseas football players on multi-million contracts have behaved. They come back here and flout the isolation regulations and this is something that will be investigated by the authorities".
Jovic himself took to social media to ask for forgiveness: "Considering the situation in the world and in our country is very difficult, something we have never seen before, I have to come forward and send my support to everybody," Jovic wrote on Instagram. "First of all, I am very sorry that I have been the main story in these days and that everybody has been writing about me and not about the important people fighting against this crisis, the doctors and everybody who works in the health services. In Madrid my test for Covid-19 was negative. For that reason I decided to travel to Serbia, to help and support our people and to be closer to my family, with the permission of my club.
"When I arrived in Serbia I was tested and it was negative. I am very sorry that some people did not do their jobs professionally and did not give me instructions on how to behave regarding isolation. In Spain I was allowed to go the pharmacy and the supermarket, which isn't the case here. I would like to say I am sorry to everybody if I put anyone at risk in any way. I hope that together we can overcome this. To Serbia, all of my support, and we'll get through this together."
During his time in Belgrade, the forward has contracted the services of a private fitness instructor who takes the player through a series of drills on a daily basis through video conferencing.
Jovic is also aware of the incident surrounding Al Ittihad player Aleksandar Prijovic, after the player met up with friends at a Belgrade hotel and was caught breaking the curfew law. Prijovic now faces three months under house arrest for his offence as the Balkan nation strive to fight the Covid-19 pandemic.