Coronavirus: How many Covid-19 patients in the US are in hospital?
The United States has a plan to reopen the economy in the next few weeks depending on how many people are hospitalized due to the coronavirus pandemic.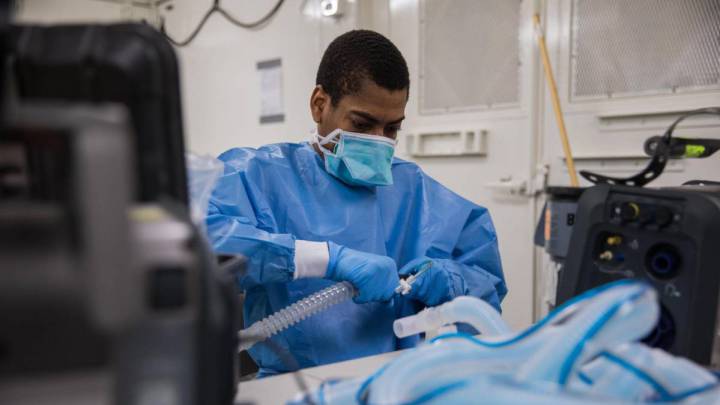 The United States is now the country with the most coronavirus cases and deaths in the entire world and many states have prolonged the quarantine period in an attempt to prevent the virus from spreading further. As of the morning of Sunday 12 April the U.S. reports a total of 558,447 cases and 21,991 deaths.
United States president Donald Trump addressed the nation in a video message on Sunday morning and he urged everyone to remain at home and keep practicing social distancing.
On the other hand Dr. Anthony Fauci from the White House is very optimistic about getting the economy back up and running in the next few weeks because the daily number of people being admitted to hospital with Covid-19 infection appears to be decreasing.
"Even though the number of cases keep increasing the number of people hospitalised because of the virus is decreasing and this is a good sign for the country because we can tell people that it is safe to return to work," Fauci said.
Number of Hospitalised Covid-19 patients in the United States
State
Hospitalised
New York
33, 244
New Jersey
7, 618
California
5, 067
Illinois
3, 680
Michigan
3, 636
Florida
2, 744
Georgia
2,491
Massachusetts
2, 120
Pennsylvania
2, 115
Louisiana
2, 067
Ohio
1, 859
Maryland
1, 709
Connecticut
1, 593
Texas
1, 514
Colorado
1, 376
Virginia
1, 252
Wisconsin
950
Missouri
941
Washington
642
Tennessee
556
Mississippi
528
South Carolina
496
Kentucky
459
Oklahoma
446
Alabama
402
North Carolina
362
Oregon
345
Minnesota
340
Kansas
293
Nevada
282
Delaware
190
Utah
190
Rhode Island
183
New Hampshire
146
Idaho
131
Arkansas
130
Iowa
118
Maine
114
West Virginia
81
New Mexico
78
Vermont
77
Montana
46
Hawaii
44
Wyoming
37
North Dakota
36
South Dakota
33
Alaska
31
Guam
14
Virgin Islands
3
Arizona
0
Diamond Princess
0
District of Columbia
0
Grand Princess
0
Indiana
0
Nebraska
0
According to the data provided by the John Hopkins University, while there are 558,447 Covid-19 positive cases only 82,809 are hospitalised, around 16.9% of the total.