Real Madrid not cosidering selling Luka Jovic
AS have felt out the situation and have learned that Real Madrid see Jovic as a work in progress. "He is the perfect age, signed until 2025 and we are counting on him."
Luka Jovic (22) will be a part of Real Madrid's project next season. After the furore caused by his trip back to Belgrade during Spain's state of alarm, he faced punishment from his own government and faced criticism from all angles. Real Madrid would prefer not to have to comment on the situation but AS have learned that the striker remains in their plans. "Luka is the perfect age to grow as a footballer and as a person, he signed a deal until 2025 and we are counting on him. He didn't do anything Real Madrid were not aware of and his local police where he is from were informed of his arrival. The first year is never easy for anyone and his adaptation to a new language, country and culture but we know his potential and nobody doubts him."
On 2 July, Madrid signed Jovic for €60 million, a fee that now seems huge given his lack of production this season. He has scored just twice, one against Leganés and another against Osasuna but it's also true that he has only played 766 minutes out of a possible 3,360. In fact, he has only played in one full game, against Granada in September. His transfer market value has dropped but in Madrid they insist that their confidence in the player has not budged. "You can put a list of players who, at 21 or 22, were stuck but at 25 turned into world class players. Give it time," said the source. There is nobody forgetting that Jovic had a spectacular 2018-19 with Frankfurt. He scored 27 goals in 48 games. "Nobody is gifted that."
The shadow of Erling Haaland looms but that won't affect Jovic this summer because the Norweigan's price tag is only acceptable when January comes around. It's then when his release clause of €75 million kicks in. Depending on what happens to Mariano this summer but Real Madrid are not planning on signing a striker this summer.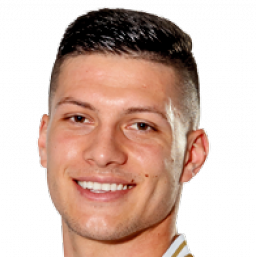 Jovic remains confined in Belgrade where he travelled with his son. He is working with a personal trainer to maintain his fitness as he awaits news from Madrid as to when the quarantine will end and they can return to training. The 22-year-old is calm, Madrid will give him a second chance.