Mourinho pushing Kane towards Real Madrid or PSG
Tottenham coach Jose Mourinho has reportedly demanded that the club doesn't sell Kane to another Premier League rival, which would open the way for PSG or Real Madrid.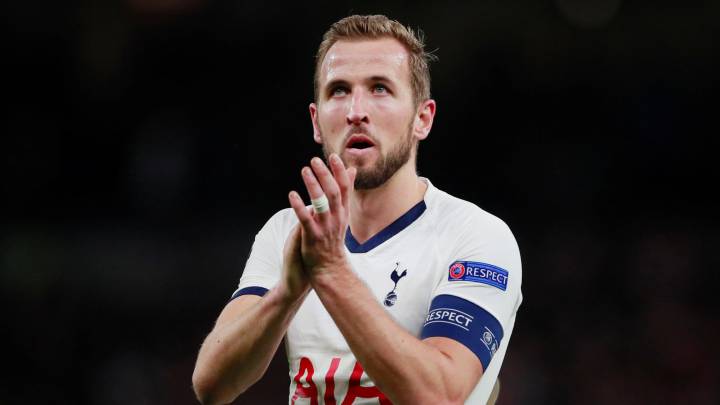 Speculation over Harry Kane's departure from Tottenham has intensified in the British press.
The latest reports claim that Spurs coach, Jose Mourinho, has asked club chairman Daniel Levy not to sell Kane to another Premier League team, which would rule out Manchester United, who have been heavily linked with the England international for quite some time.
If Levy were to fulfil Mourinho's reported wishes, that would push the English striker towards PSG or Real Madrid, the only two European clubs with the financial muscle to undertake such an operation, which would likely exceed 200 million euros.
Real Madrid: no plans to sign Kane for now
However, for the moment, Real Madrid is not considering signing the Spurs striker, although nothing can be ruled in a transfer market that can take many twists and turns due to the current coronavirus crisis and the uncertainty it has created.
While Kane would come at a high price, he makes up for it in the fact that he is still just 26 years old and guarantees goals: 25, 41 and 24 in the last three seasons. However, the player's personality is the major deterrent for Madrid bosses, who are more swayed toward the profile of Erling Haaland.
Kane at PSG?
"I'll always love Spurs but I've always said if I don't feel we're progressing as a team or going in the right direction, I'm not someone to stay there for the sake of it," Kane said at the end of March.
"I'm ambitious, I want to improve and become one of the top, top players. It depends on what happens as a team and how we progress."
If Kane moves on, as he has himself suggested with his latest declarations, then PSG could prove to be a more likely option than Madrid. The Parisian club is going to wave goodbye to veteran centre forward Edinson Cavani in the summer, while loanee Mauro Icardi is also set to return to Inter Milan after one year in the French capital – which would leave a space for Kane.
Another factor in any decision to sign Kane, of course, will be whether PSG president, Nasser Al-Khelaifi, expects to lose Kylian Mbappé in 2021, something which remains unknown at this point.