Cesc Fábregas talks of the many chances to join Real Madrid
The Monaco midfielder spoke to Cadena Cope about his friend Lionel Messi staying at Barcelona and how his coaching career could take him to the Bernabéu.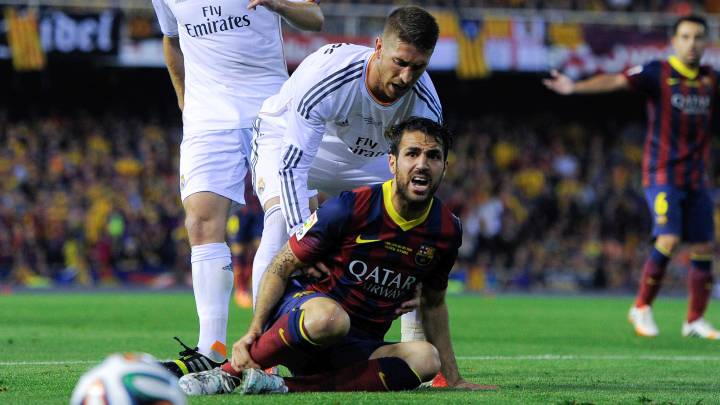 Cesc Fábregas, the Spanish midfielder currently at Monaco, ruled out the idea being speculated about Lionel Messi, his close friend, considering leaving FC Barcelona at the end of the season. Rumours have been that due to the numerous problems with senior management he could make the move, but Cesc was having none of it.
Messi staying at Barcelona, says Cesc
"I speak with Messi and his idea has always been to end his career at Barcelona. Many things can happen at a club but I am fully confident that his career will end at Barça," Cesc said during an interview on Spanish station Cadena Cope.
Continuing the topic of LaLIga, Fabregas acknowledged that at various points in his career "there were quite a few options" to play for Real Madrid and, although that never materialised as a player, he has not closed the door to joining Los Blancos as a coach.
"You can never say never, I know this very clearly. As a player, maybe, but as a coach it is different because you can manage 30 teams in your career.

"As a player the contracts are longer but as a coach you are likely to have many more opportunities because they can kick you out after two days," he said.
And as a manager, a path he is keen to follow, Cesc was asked which current player he would look to sign above all others if he had the choice. His answer was clear, Frenchman Kylian Mbappé.
"Cristiano is 35 and Leo is going to turn 33, they are older. For youth, talent, desire and mentality, I would sign Mbappé. The thought of having him for ten years up front for my team, I would go for him.
"Then there are players like Neymar and Haaland, but due to his goal getting and his speed, Mbappé reminds me of [Thierry] Henry. I saw him from in behind and it was a delight when you gave him a long pass into space, "he recalled.