Coronavirus: Which US states have made face masks compulsory?
Amid the coronavirus pandemic, several states in the US have now made it mandatory for citizens to wear a face covering if they leave the house.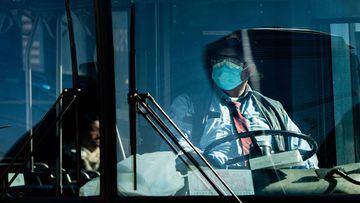 Several states in America have now made it compulsory for citizens to wear face masks if they leave the house, as the nation battles to halt the spread of the coronavirus.
More than 40,000 Covid-19 deaths in US
The United States has been the pandemic's worst-hit country, having registered nearly 770,000 cases and over 40,000 deaths at the time of writing.
Face masks now mandatory in seven American states
According to CNN, seven states in the US have so far ordered people to cover their faces in public spaces. They are:
(To find out each state's exact face-covering requirements, click on its name.)
How to make your own mask
Although surgical masks and N95 respirators are most effective at protecting the wearer from the virus and preventing them from spreading it, healthcare workers are being prioritised when it comes to the distribution of medical-grade face coverings.
However, cloth masks can either be bought or made at home. They do less to shield the wearer from infection, but "slow the spread of the virus and help people who may have the virus and do not know it from transmitting it to others", says the US' Centers for Disease Control and Prevention (CDC).
We have prepared some advice on how to make a cloth face mask here, while you'll also find a CDC guide outlining three separate methods here.
See also:
NBA sell team face masks to raise money for hunger relief
Live coverage of the coronavirus pandemic
You can stay up-to-date with the latest developments in the coronavirus crisis by following our daily live blog. We also have dedicated rolling feeds for the United States and Nigeria.