Real Madrid put Jovic's mind at ease: you're in our plans
AS understands that Madrid took advantage of the player's problematic trip to Serbia to explain to him that they count on him and he will continue at the club.
Luka Jovic's future remains at Real Madrid. Back on 12 April, AS reported that the striker will continue at the Bernabeu next season and is still very much in the club's plans. Sources at Madrid have also told us that the club recently called the player to put his mind at rest, telling him to stay calm and focus solely on working hard so that he will be ready when his time comes.
Madrid's technical department have maintained numerous phonecalls with Jovic to let him know his position in the team. Seeing as Jovic is in Belgrade, Juni Calafat made a point of contacting those within the player's close circle to give them a series of guidelines to follow in an attempt to qwell the media storm which errupted when he flew back to his homeland and the uproar for not following quarantine regulations, .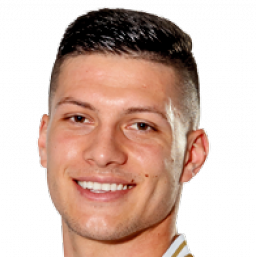 Madrid have told Jovic and those in his inner circle to try and avoid any situation that might be picked up by the media. His priority, apart from the health of his family, is making sure he follows the club's training guide and remains fit and in shape - something Jovic has been doing - including additional work with his own personal trainer. If he keeps his part of the deal, he knows he will be in Zidane's plans for the 2020-21 season.
Adaptating to life at Real Madrid
In spite of Madrid's attempts to assure Jovic, there is still a great deal of speculation about the player's future. Firstly because he has been slow to show the level expected of him and secondly because there are a number of clubs who would be interested in signing him. Thirdly, because there is now someone else who could enter the picture - 19-year-old Erling Haaland, who is one of Madrid's big objectives for the future. But the economic crisis caused by the coronavirus pandemic means that all clubs, Real Madrid included, must now be more careful spending and the 75 million euro buy-out clause for Haaland is only effective from January 2021.
At Madrid, they are confident that Jovic will come good, as a club source told AS: "Luka is at the perfect age to grow as a player and as a person, he's under contract until 2025 and we have a lot of faith in him. You could draw up a list of players who, when they were 21 or 22 years old might have seemed at a standstill but two or three years down the line they are among the top players in the world". They trust that the former Eintracht Frankfurt forward, who has just two goals in 766 minutes so far for Madrid, will eventually justify the 60 million euros they paid for him in 2019.