What version of Eden Hazard will we see upon his return?
The Belgian player has responded from long spells out of the game from injury in two different ways, coming back hitting the target or goal shy.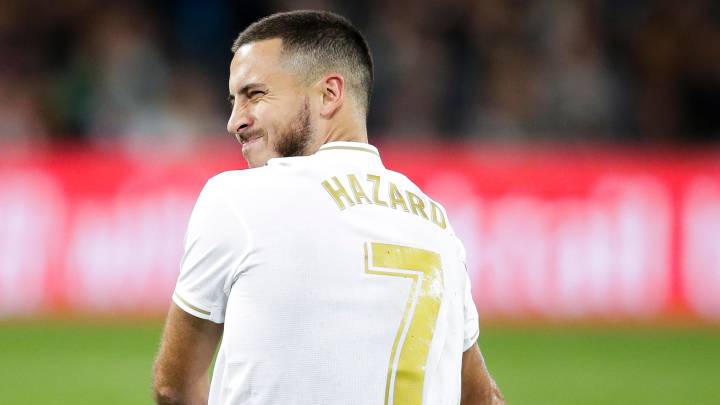 It's tricky to predict what version of Eden Hazard we'll see when the Belgian makes a comeback after the March operation on his ankle. Looking back at Hazard comebacks from lengthy spells out of the game due to injury show two very different versions of the player. The first time the Belgian returned following his 2015-16 Chelsea absence, he was straight out of the blocks registering four goals in as many games. Following his second lengthy lay-off in the 2017-18 session, it took the player seven games before he found the net.
First lay-off
Between March and April of 2016 a muscular problem ruled Hazard out of action for 42 days but the time-out only saw the then Chelsea winger miss five games. This may have had an impact on his bright return for the Blues as he bounced back with a brace as part of a 1-4 win at Bournemouth, in the next match against Tottenham, he helped Chelsea secure a 2-2 draw and once again was on target to bag a point for the London side in a 1-1 draw with Liverpool at Anfield.

2017 form
The last lengthy lay-off will provide less room for optimism for Real Madrid fans with his absence also then caused by his ankle. He underwent surgery in the summer of 2107 and upon his return to the Premier League took some time to return to optimum goalscoring form. Between 9 September, the Belgian played in seven games (Leicester, Qarabag, Atlético, Arsenal, Stoke, City and Crystal Palace) and failed to find the net in all matches. The good news for the Bernabéu faithful is that once Hazard found his shooting boots, he kept the pace in front of the target goal bagging 17 goals in the remainder of the season.
Positive update
Belgium national team manager Roberto Martínez delivered some positive news last week surrounding the player's evolution.
The Spaniard told Belgian media: "I know he is recovering well. He is not far from running again and there are no complications. Everything went well with the operation, but you also hope that everything goes well in the four to five weeks afterwards without complications, and there were none."
He added: "We know he will return stronger. We were also fortunate, of course, to have his surgery take place just before the coronavirus outbreak. Otherwise he would not be able to travel or be treated outside of Madrid. I have a positive feeling that Eden will be back soon."